Classic 30RB
Starting at $153,400
Bathroom
The toilet and vanity live together in a half-bath, with lots of counter space and storage under the sink, to the side, and above. Across the hall, a shower stands independent with its own door.
Proper Kitchen
The high-end stove, oven, and convection microwave are arranged together, with a large, rectangular stainless steel sink and counter space. Opposite the stove, the refrigerator rests at the perfect height for grabbing ingredients.
Powered Dinette
When positioned as a table and seating, the dinette has plenty of room for four people to comfortably eat and socialize. And when you want some extra sleeping or lounging space, it converts easily with the tap of a button to a comfortable lounging or sleeping space.
Power Queen Bed
The power queen bed allows you to adjust to sit, sleep with your head more elevated, or lie flat, all without having to get up from where you are.
Storage
A closet provides hanging clothes storage, and two nightstands flank the bed. Each provides storage spots for small items and books, and the counters are perfect for displaying accessories and charging devices. There's also plenty of storage space under the bed.
Powered Lounge
The sofa gives everyone plenty of room to spread out. It features two comfortable powered reclining seats, has a perfect view of the TV, and easily serves as an extra sleeping space.
Feels Like Home.
The Airstream Classic 30RB Travel Trailer brings home with you, no matter how far from home you are. Spacious galley kitchens, intimate dining, dedicated lounging, stunning bathrooms, and private bedrooms. If you've wondered how far you can take the concept of absolute luxury. The answer can be found in the Classic 30. Odds are, if you want it – this RV has it. Everything you see, touch and operate in the Classic is the top of the line.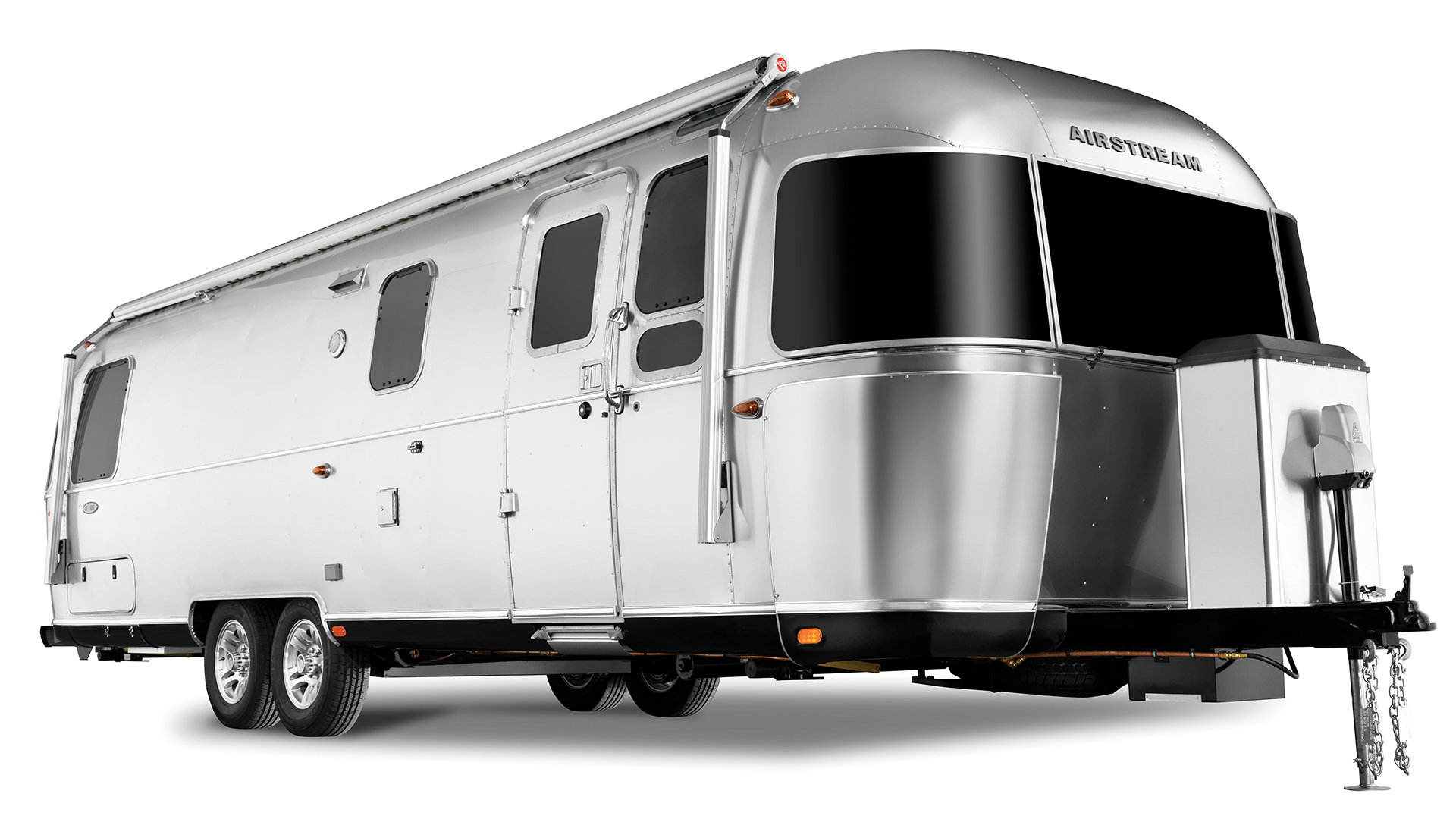 Iconic Style in a Luxurious, Spacious, Dual Axle Travel Trailer
The Classic is literally, a classic. Built specifically for long-term travel and living, this floor plan has dedicated cooking, dining, full bathroom, master bedroom areas providing a luxurious, homey, and roomy feel - especially in the lounging area right inside the main entry door. Modern features like Smart Control Technology give you the ability to control and monitor the most important features from anywhere - and stay connected to the internet. As with every Airstream travel trailer, the 30 foot queen rear bed Classic is built with the same level of quality and incomparable durability which will last for generations to come.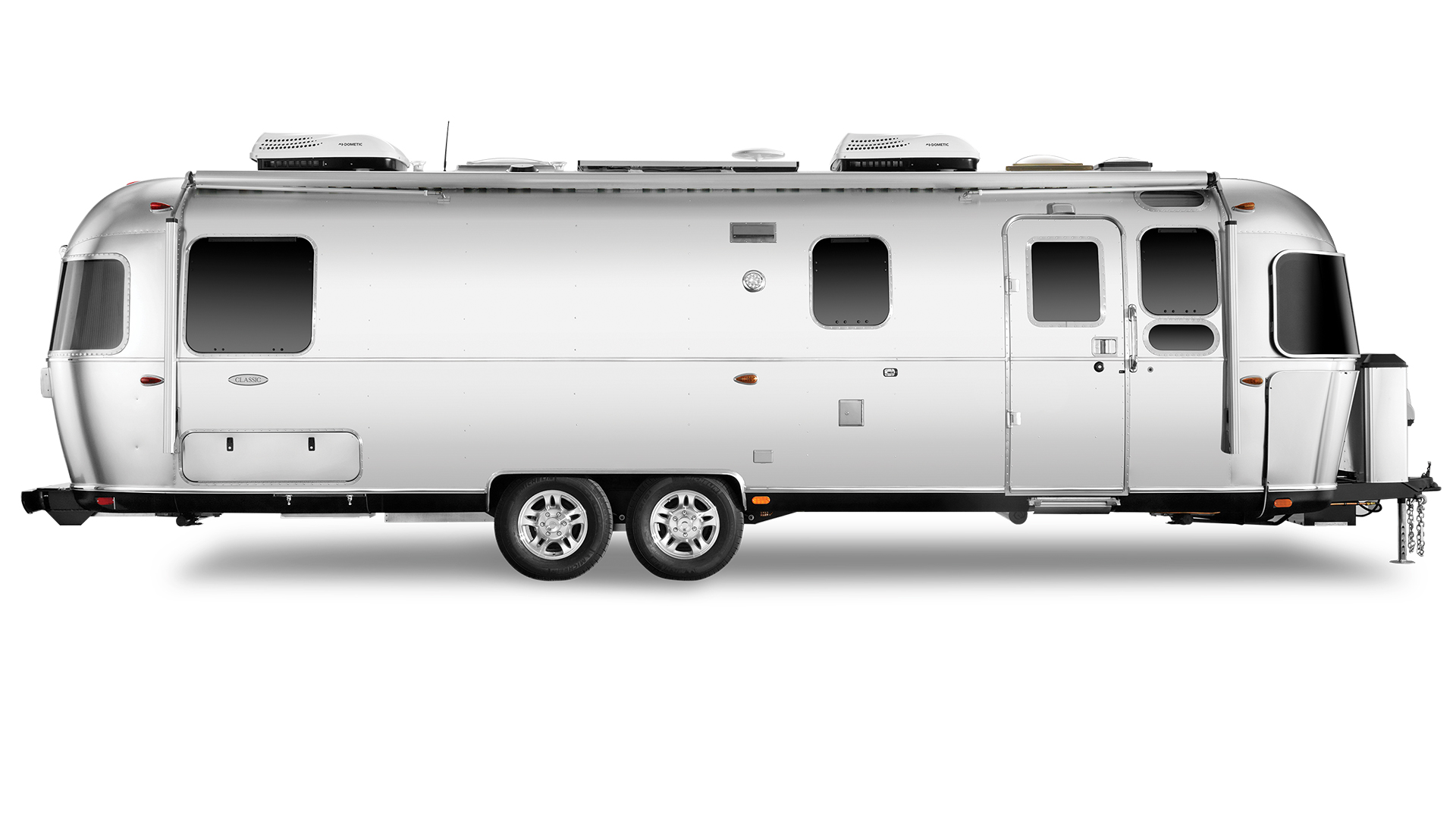 Built With Decades of Feedback
Today's Airstream travel trailers are a testament to our promise not make changes for the sake of making changes, but to constantly make improvements. Since 1931, Airstream has been pioneering innovative RV technology like refrigerators, toilets, screens doors, and showers in travel trailers which have led the industry for innovative solutions that improve the travel experience. With all the comforts, technology, and convenience that makes anywhere feel like home, our trailers are thoughtfully designed and crafted to spark an adventure. Our ever-growing community is happy to tell us what real Airstreamers need, want, and love, and that helps us create travel trailers with floor plans that feel right to all sorts of campers and travelers across the world.