Versatility, Efficiency, and Adventurous
While being one of our lightest and smallest travel trailers, Basecamp enables travelers and campers to choose their own adventure without sacrificing the comforts of home.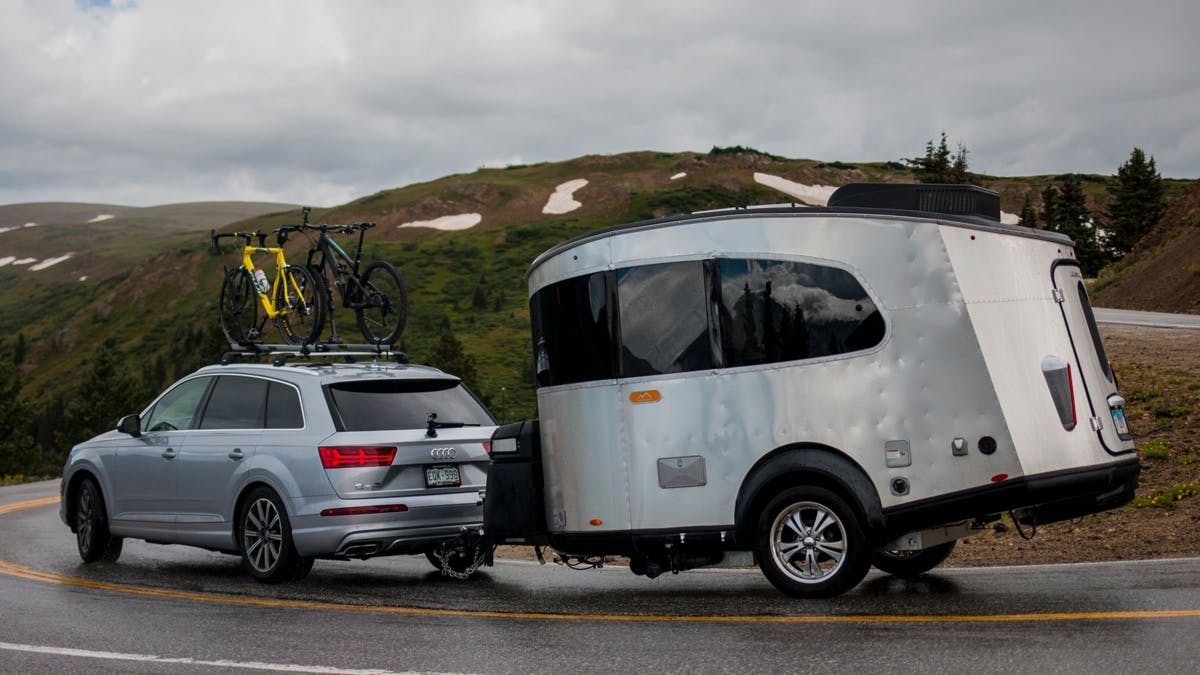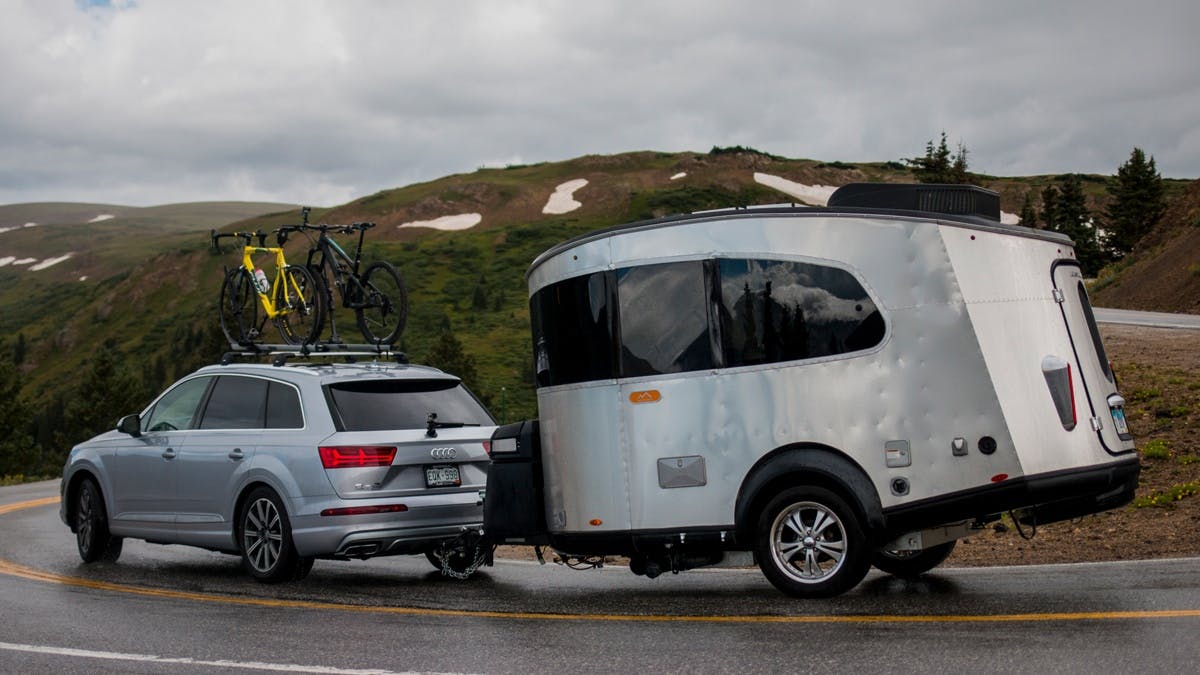 Same Airstream Quality in a Whole New Shape
Basecamp? is made of the same riveted aluminum superstructure as our traditional travel trailers, yet it introduces a new shape to the family. Its aerodynamic body and roof profile slip through the air on the open road and help increase fuel efficiency. And the panoramic front windows let you take in the world around you – the whole reason you head out to explore in the first place.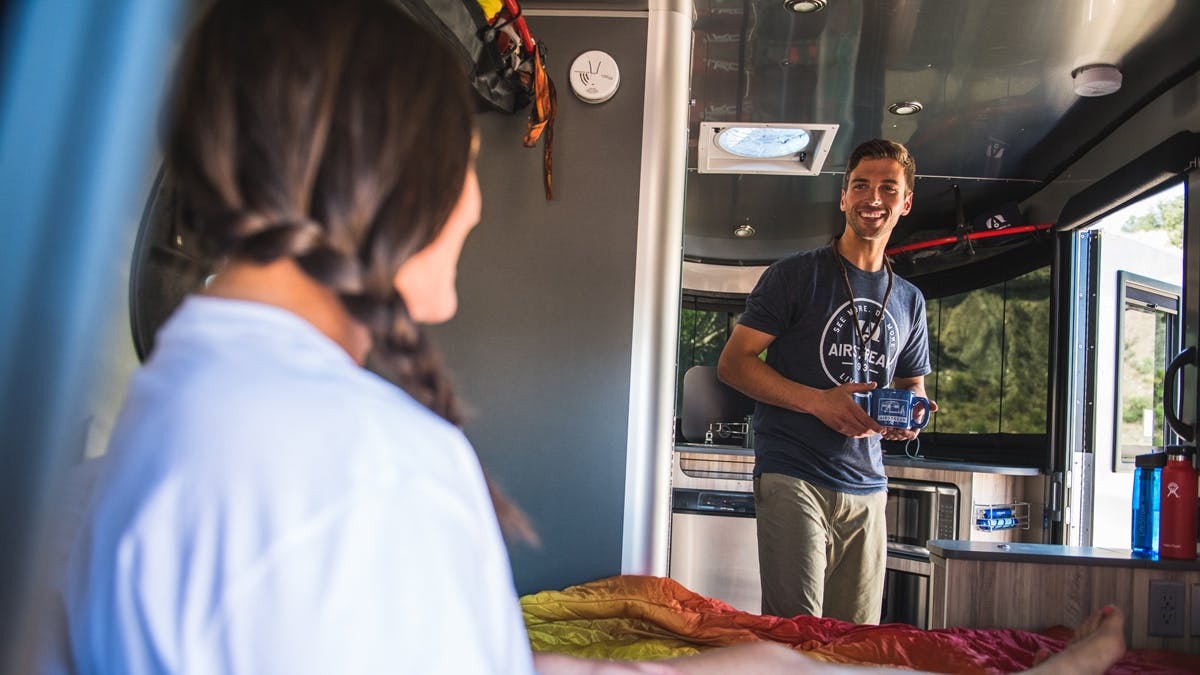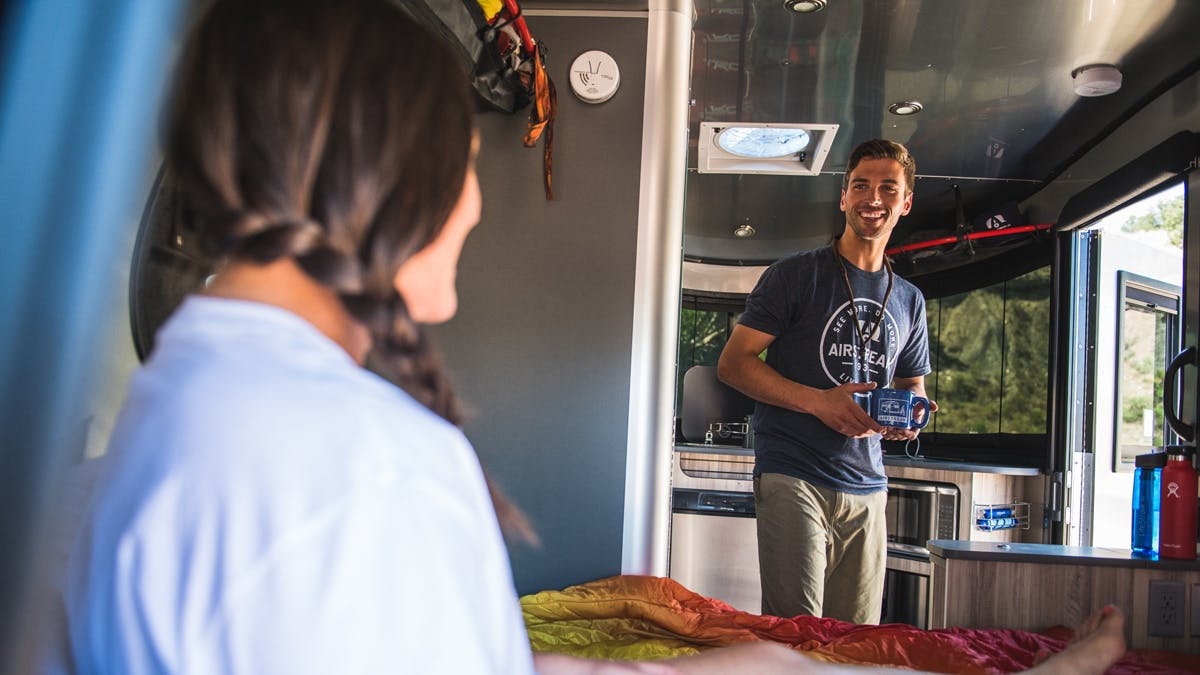 Stay Comfortable No Matter Where You Go
Every adventurer needs a place to recharge and Basecamp doesn't overlook comfort for a second. When you're setting up camp somewhere hot, the optional air conditioning with two-speed fan will keep you cool. When you're surrounded by snow, the Truma Combi Eco Plus heating system will handle both water and cabin heating with world-class efficiency.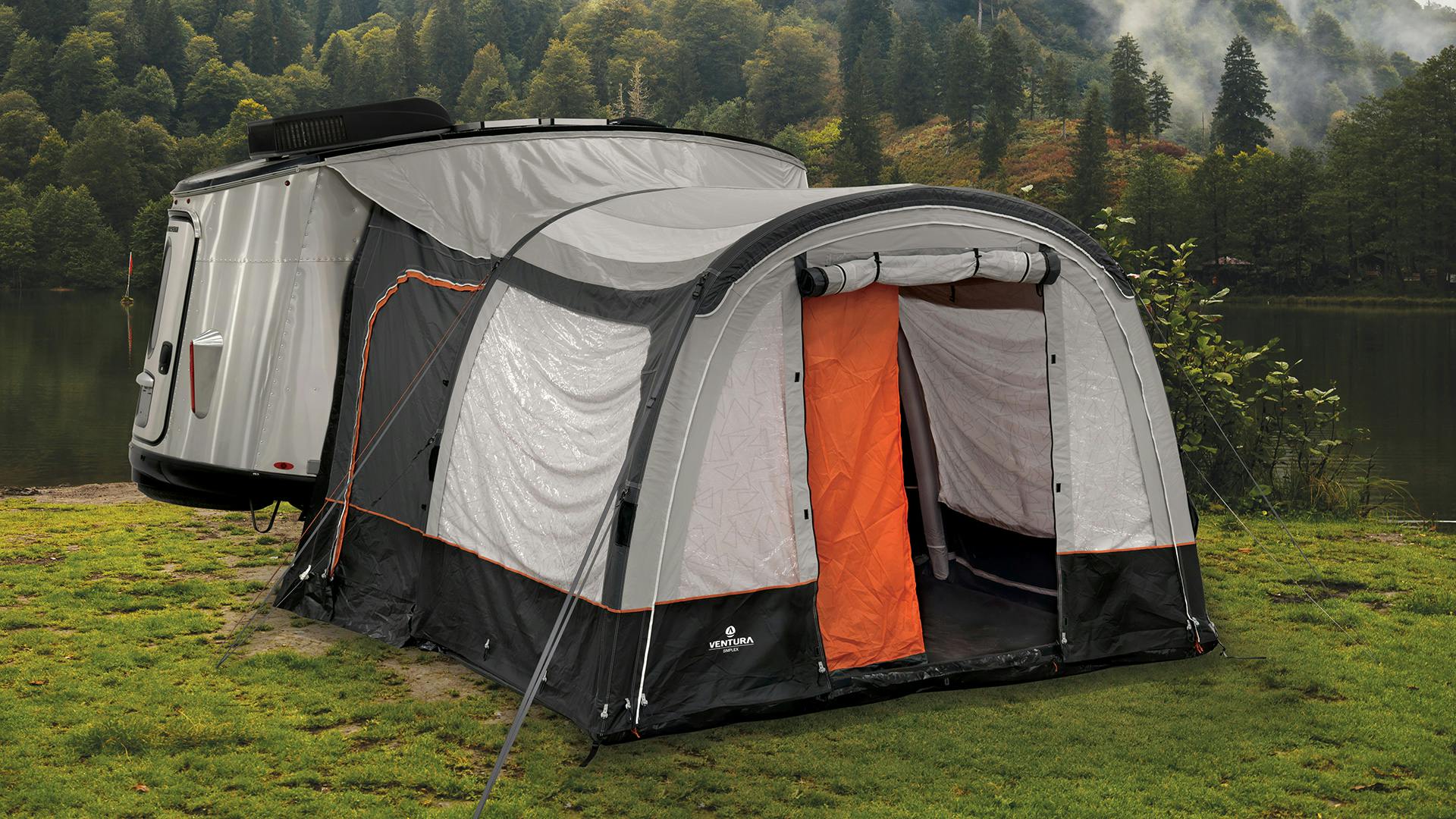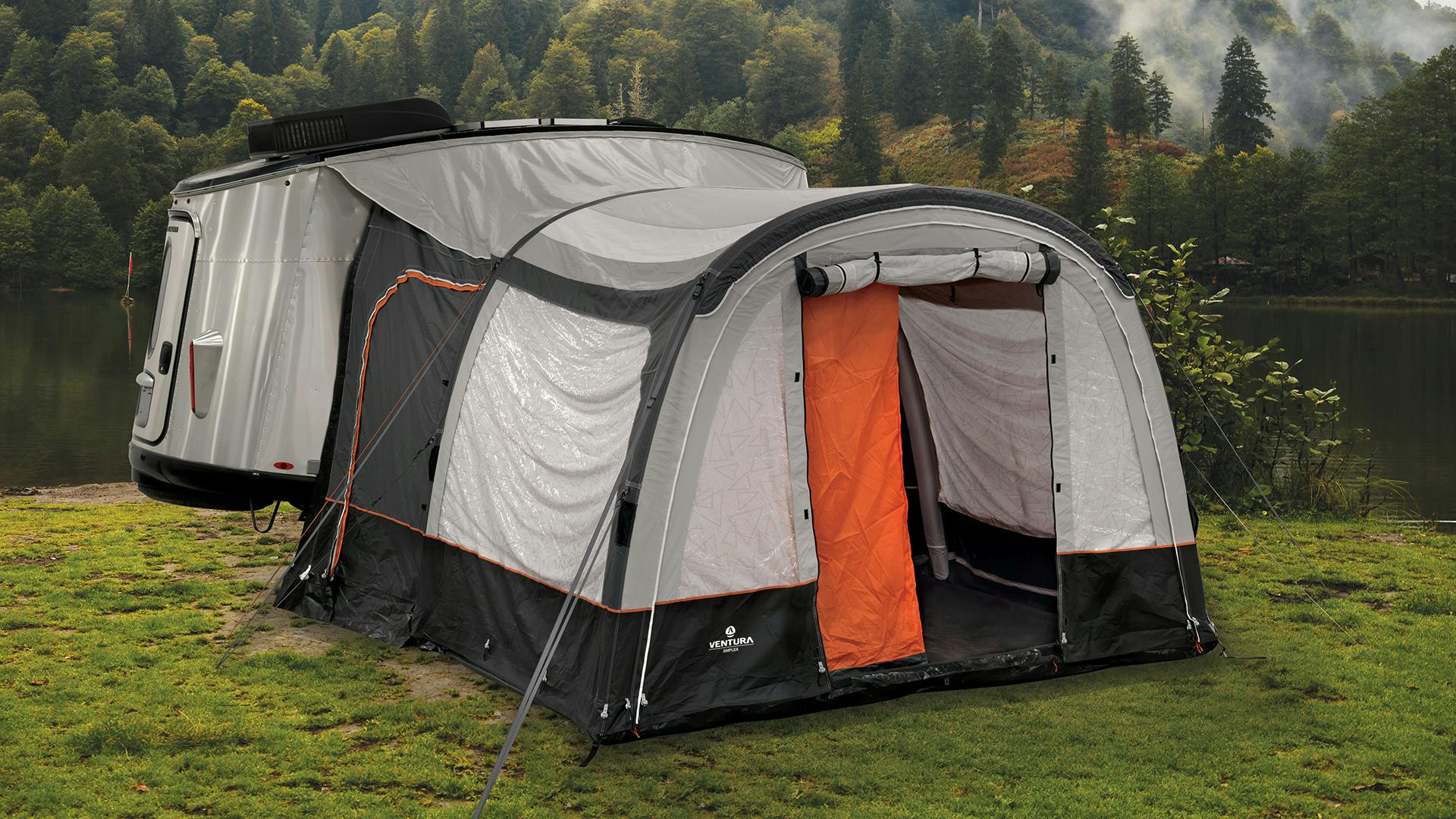 Attachable, Convenient Tent
Quickly and smoothly expand Basecamp's living and storage space with an inflatable tube frame tent attachment. With two entry points and two rooms, the tent's versatility makes it easier to grab your gear and go or set up camp and relax for the day.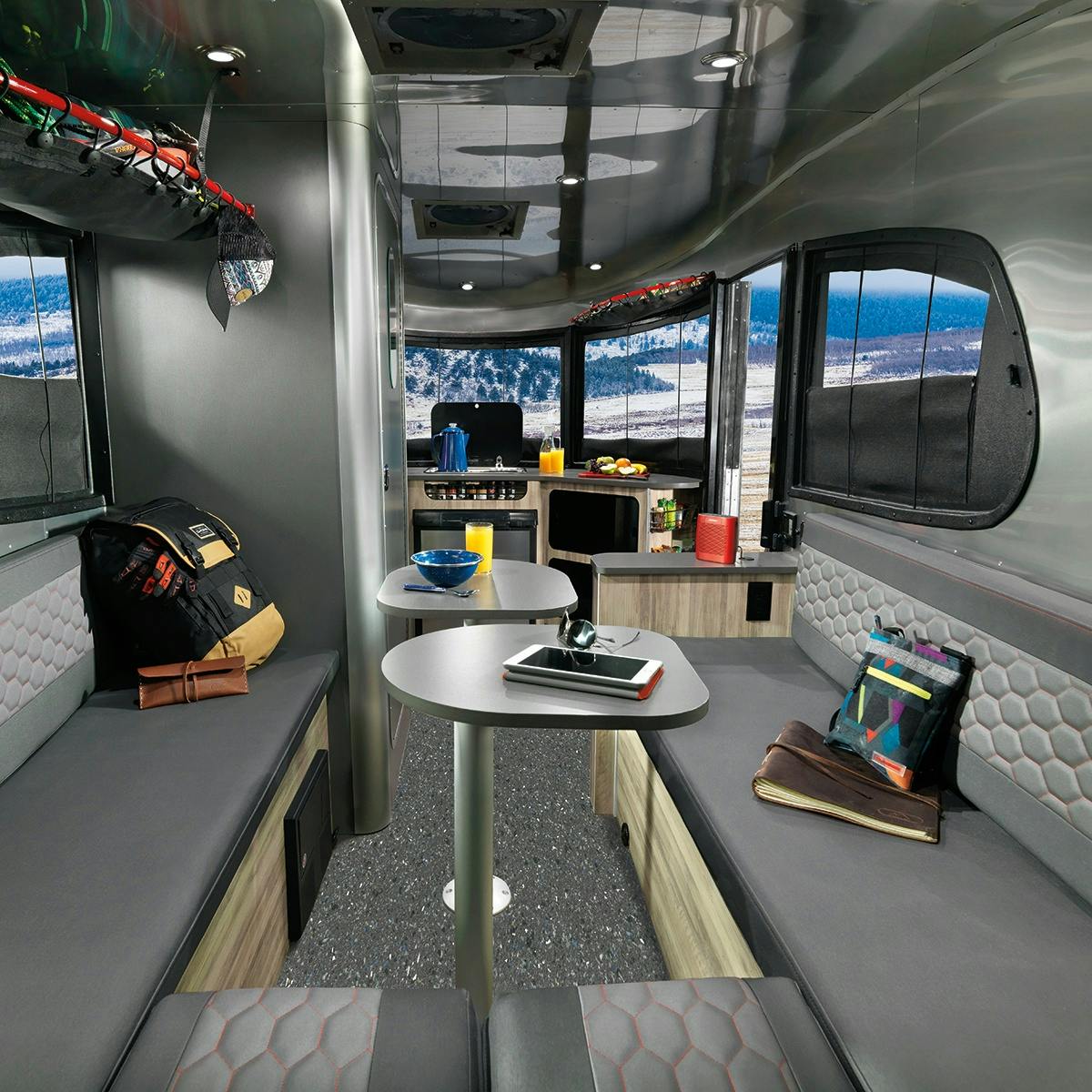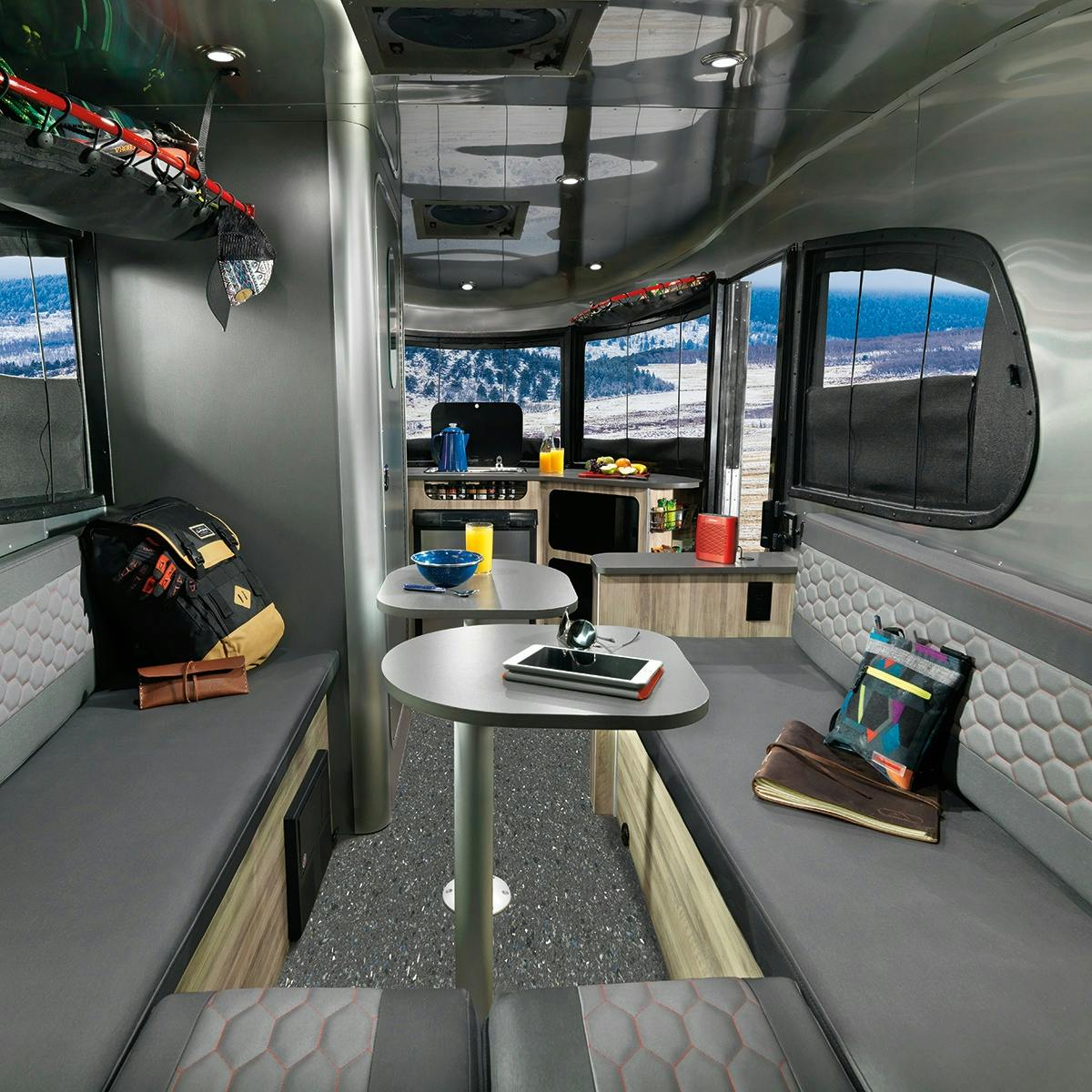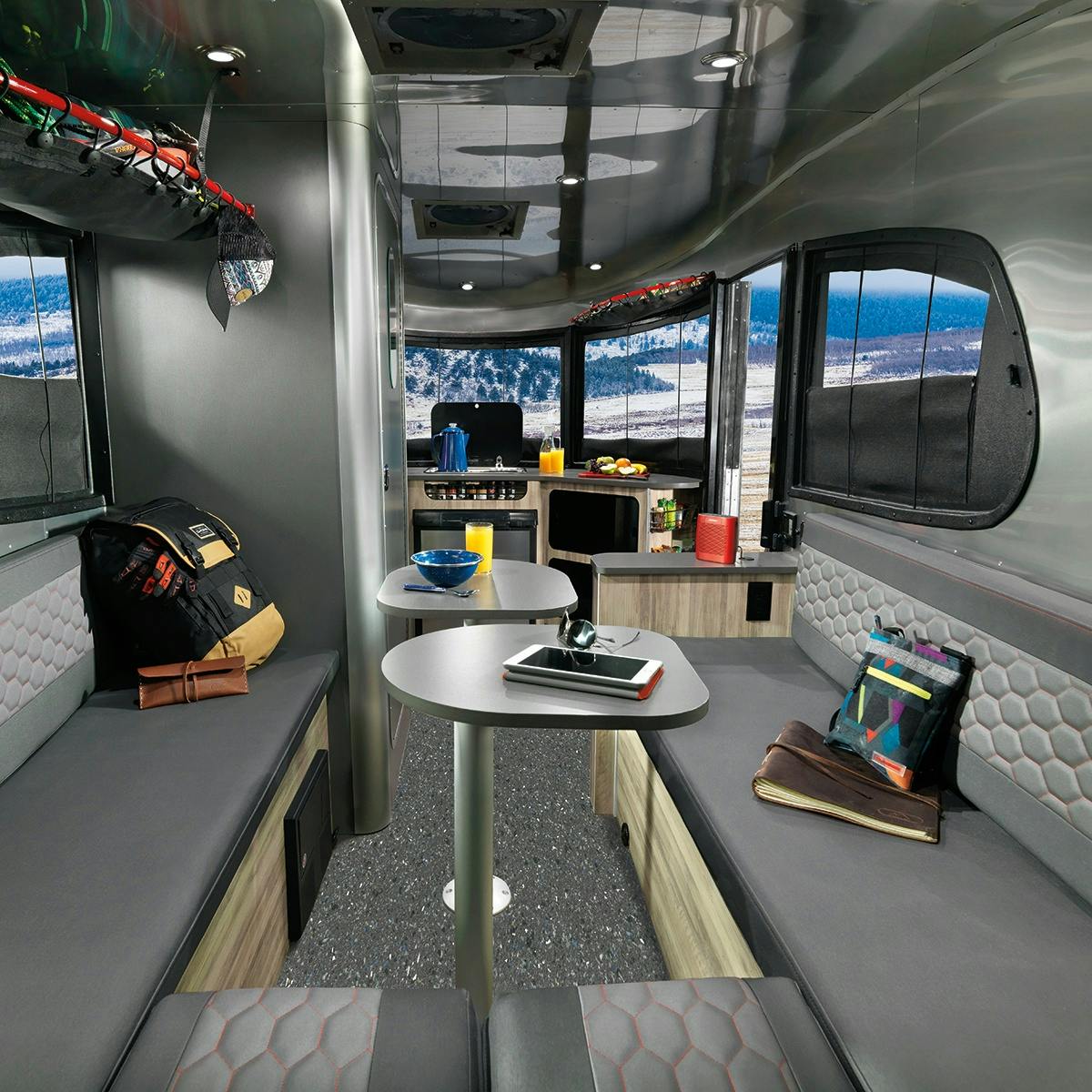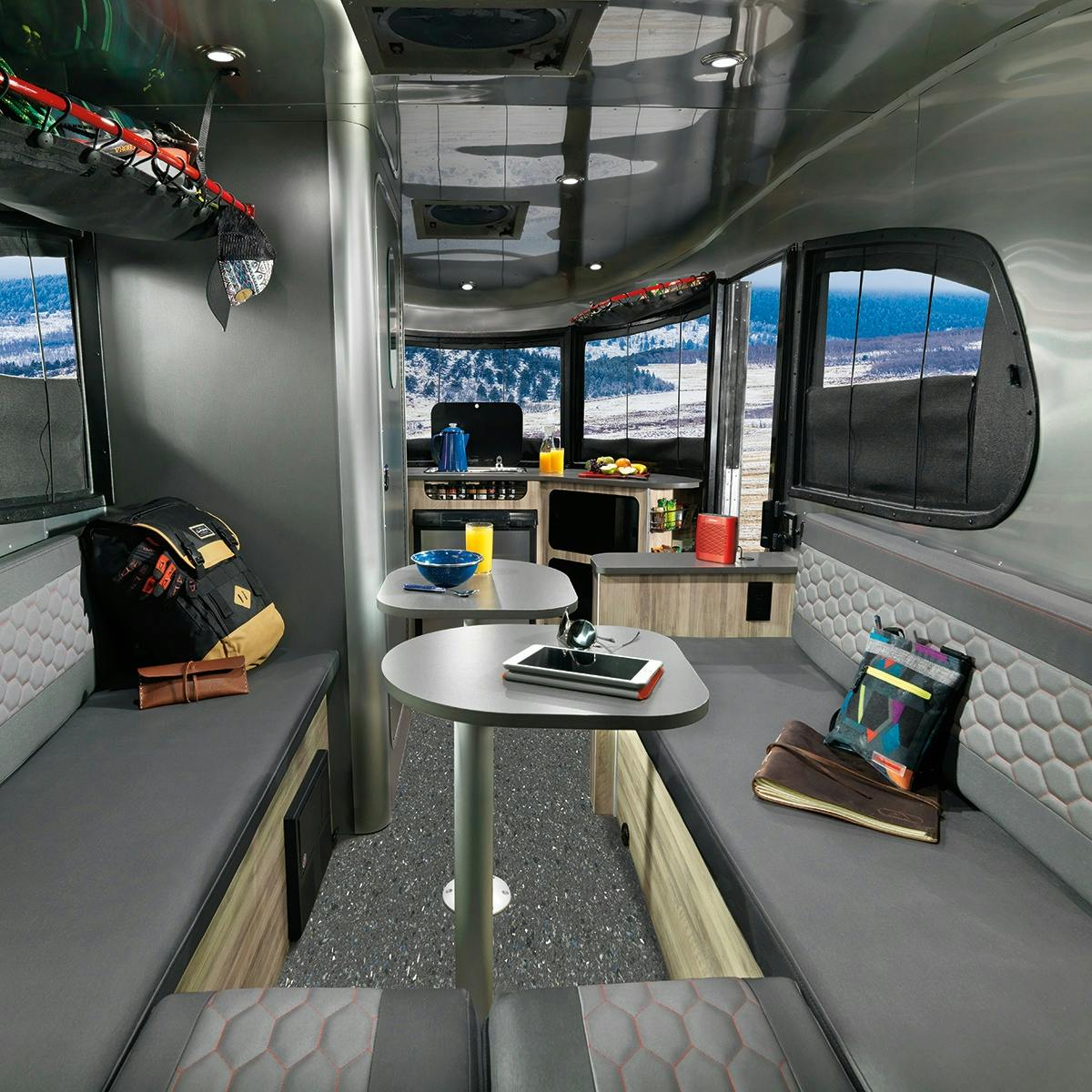 Red Rock
Dark grey seating is accented by touches of bright red thread and pops of red throughout the trailer.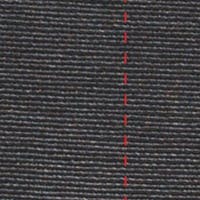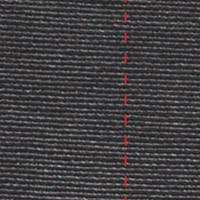 Red Rock
Seating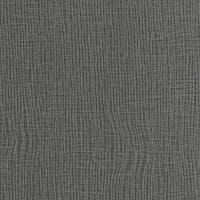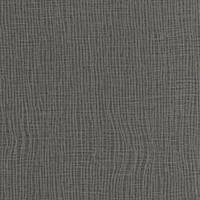 Countertops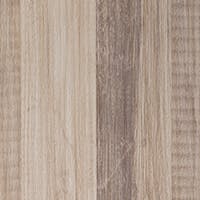 Furniture
Flooring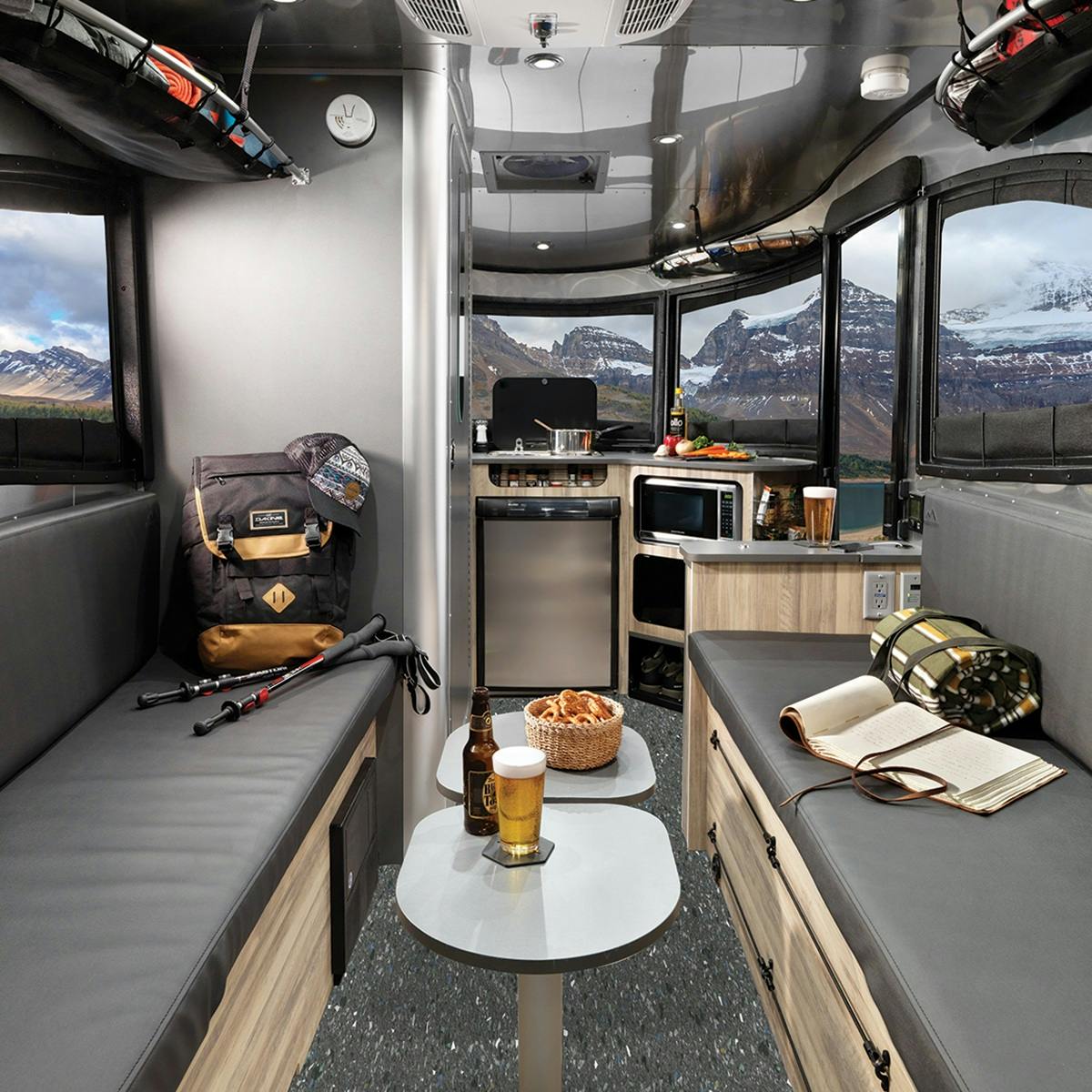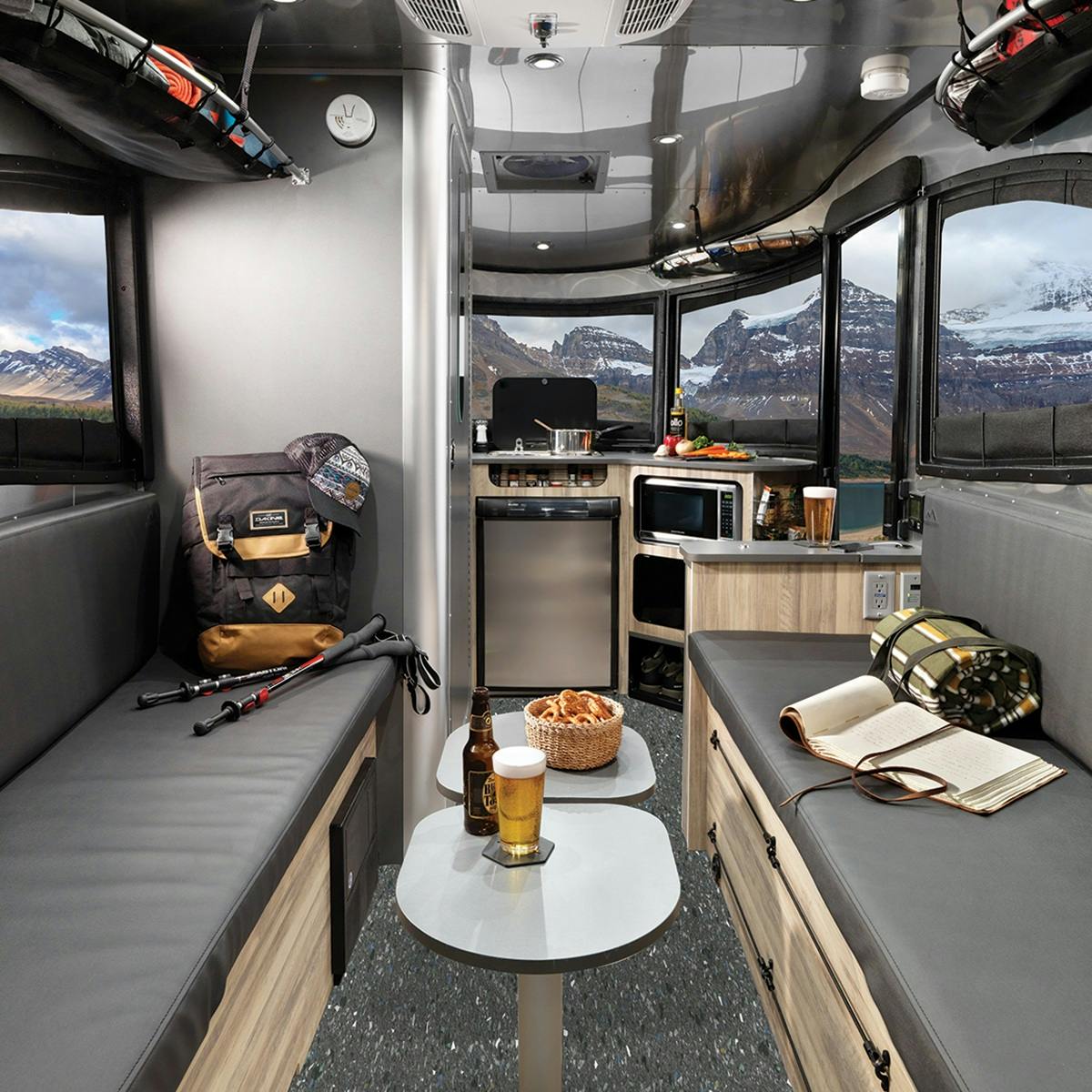 River Rock
Darker neutrals accentuate the classic silver Airstream aluminum and play off of light wood.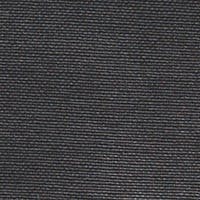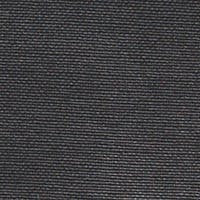 River Rock
Seating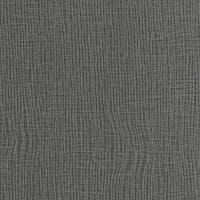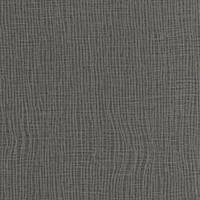 Countertops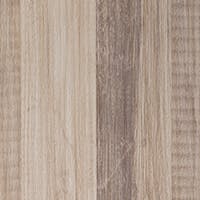 Furniture
Flooring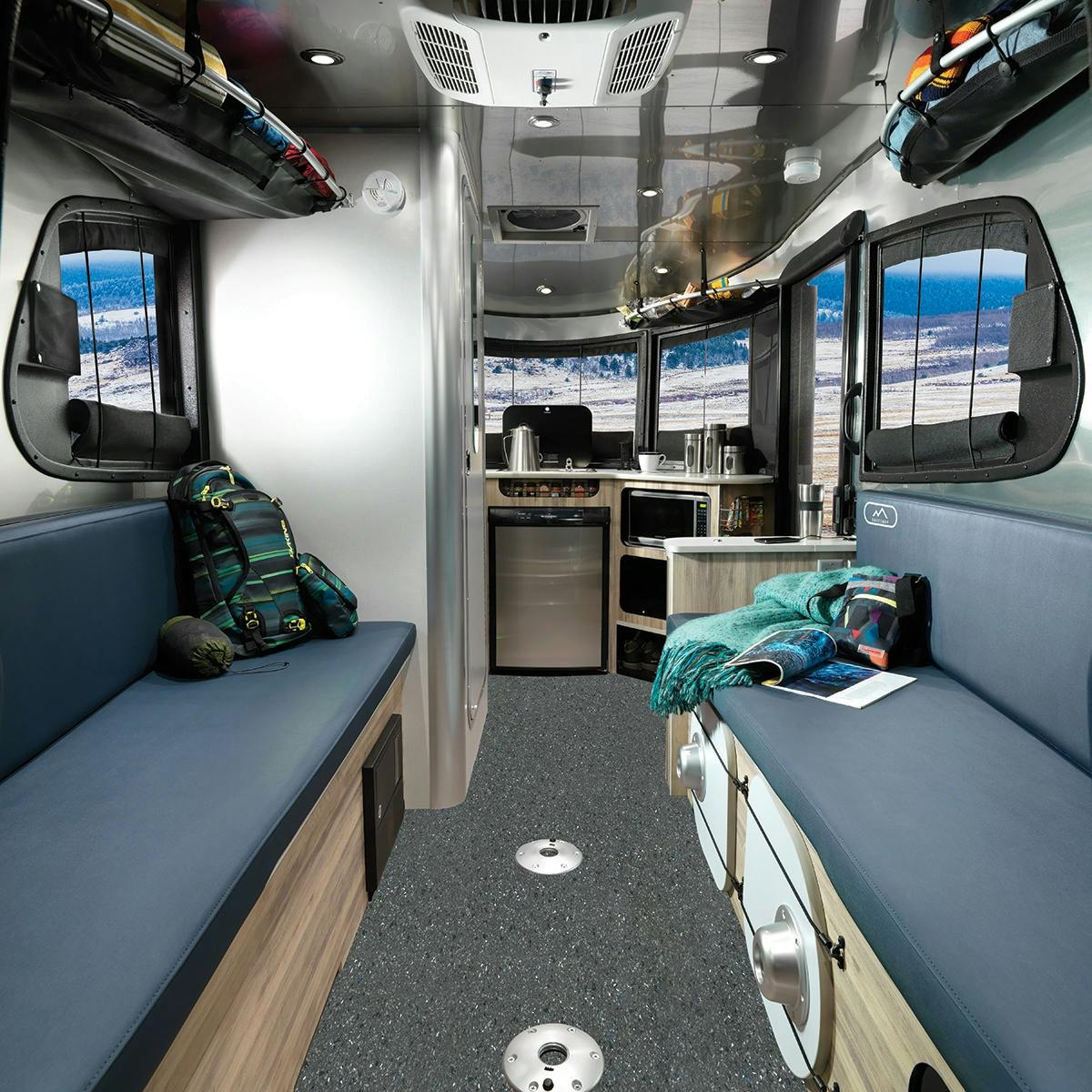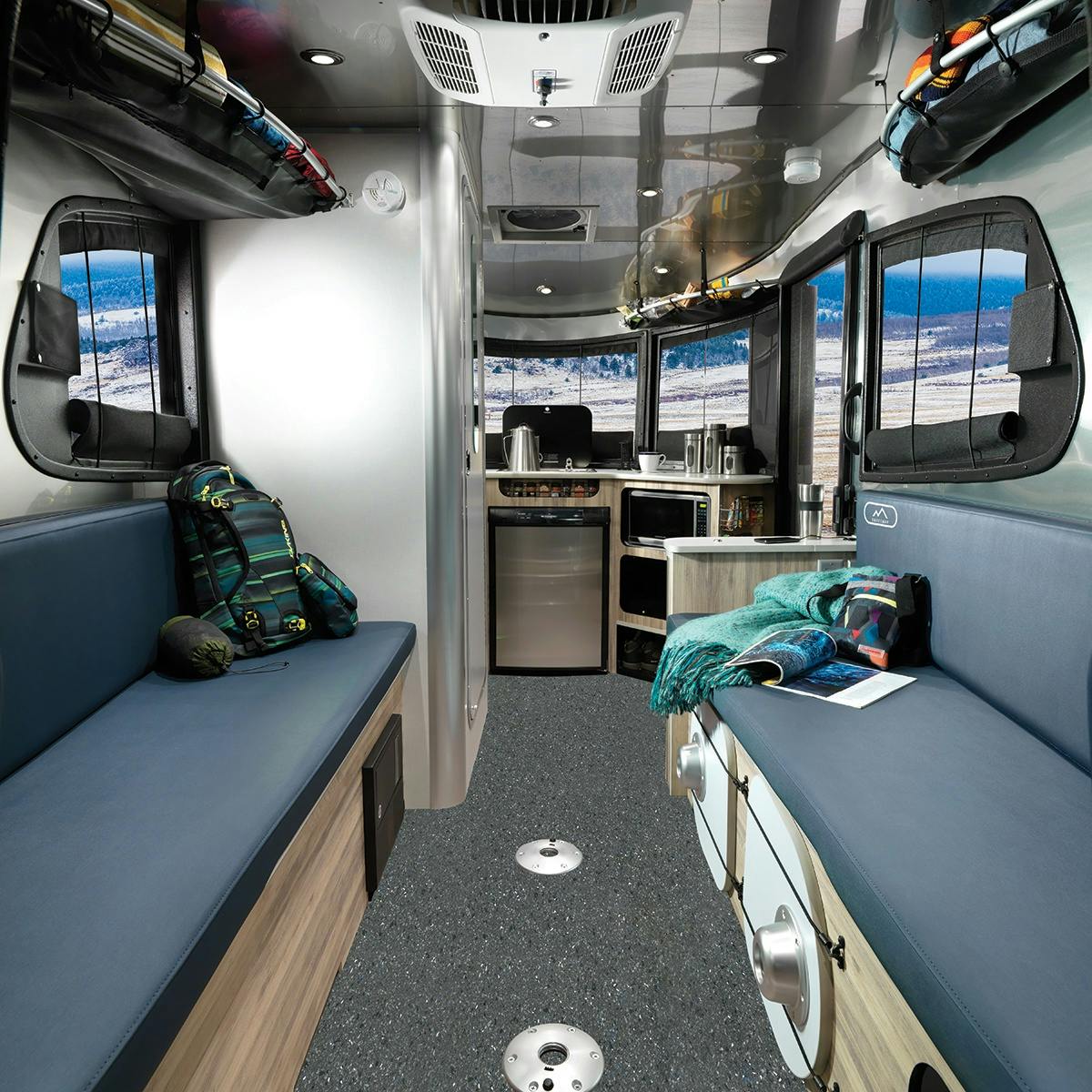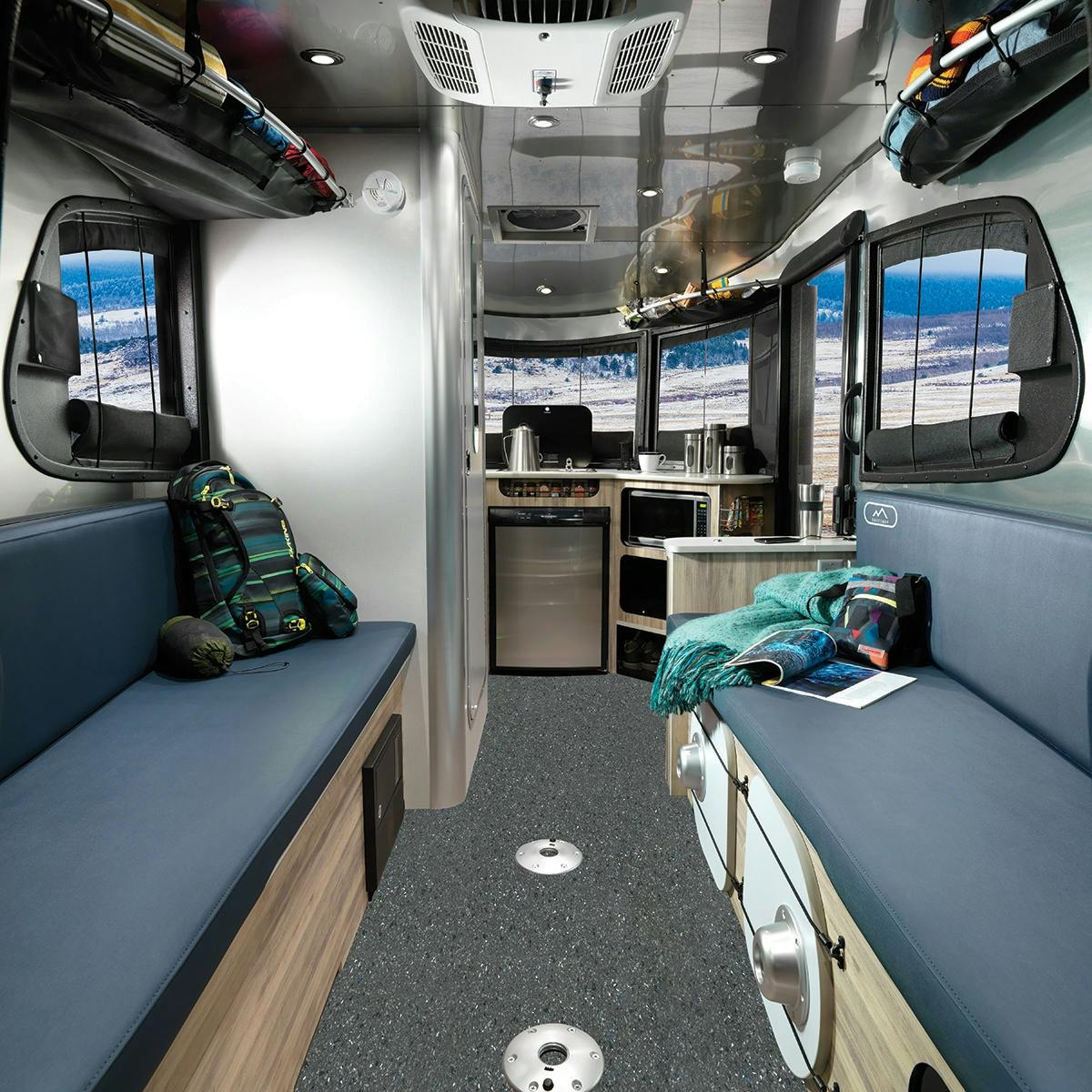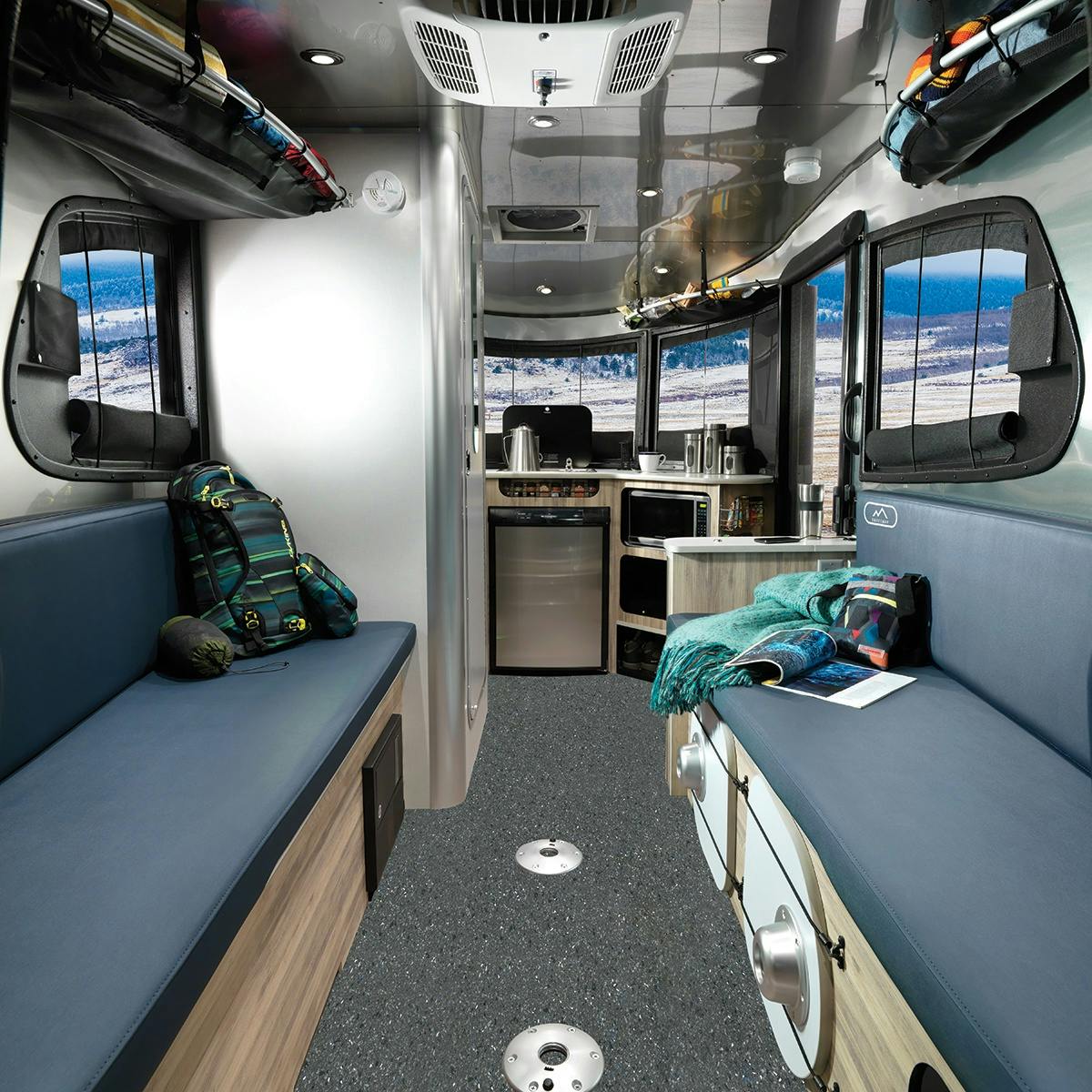 Glacier Lake
Blue seating and light countertops are crisp and soothing, mirroring the colors of the outside world. Glacier Lake
Seating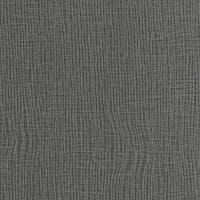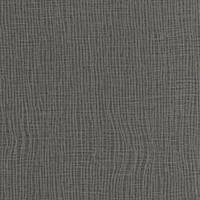 Countertops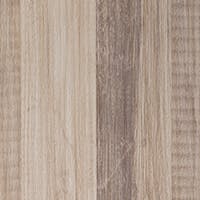 Furniture
Flooring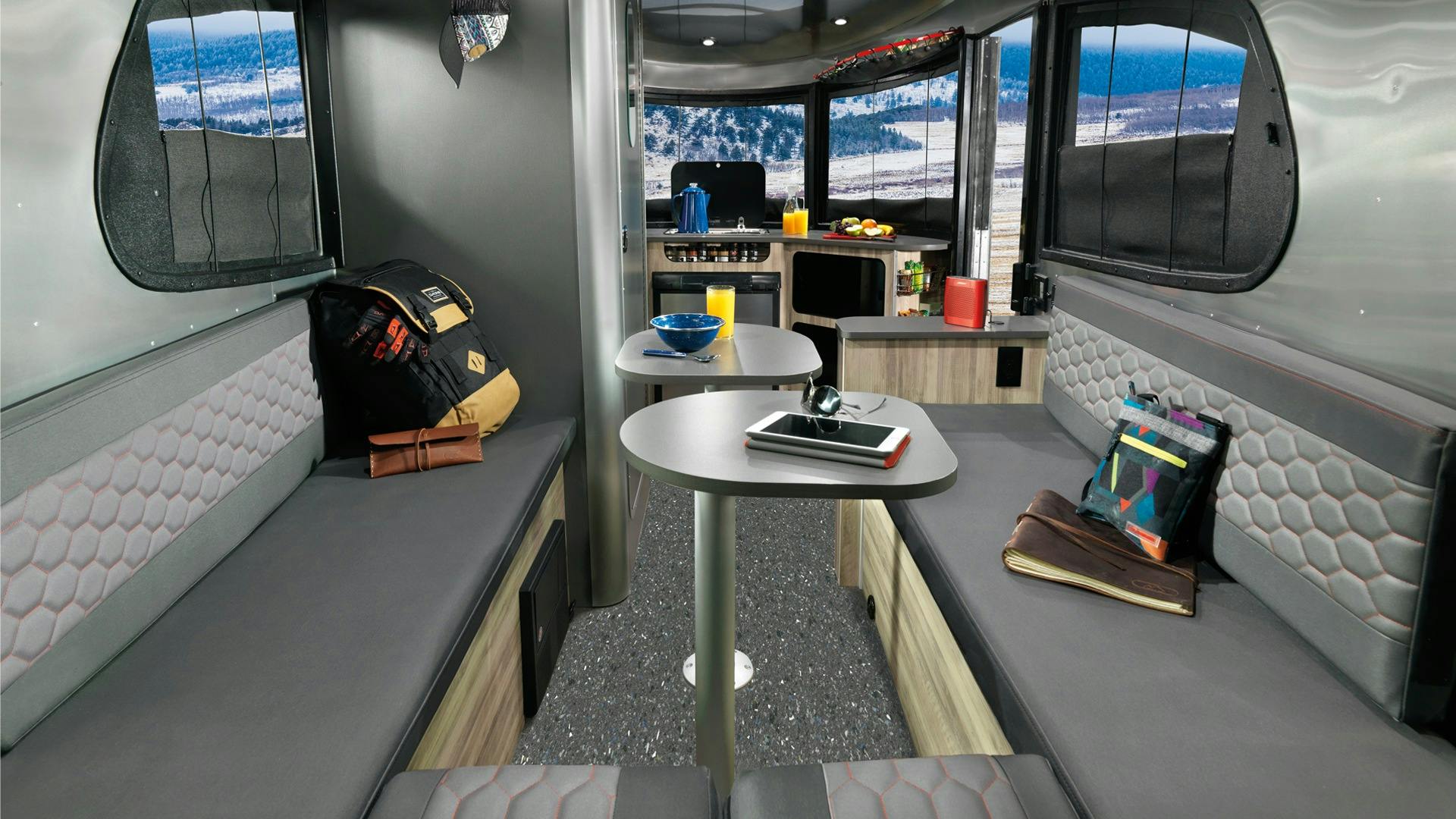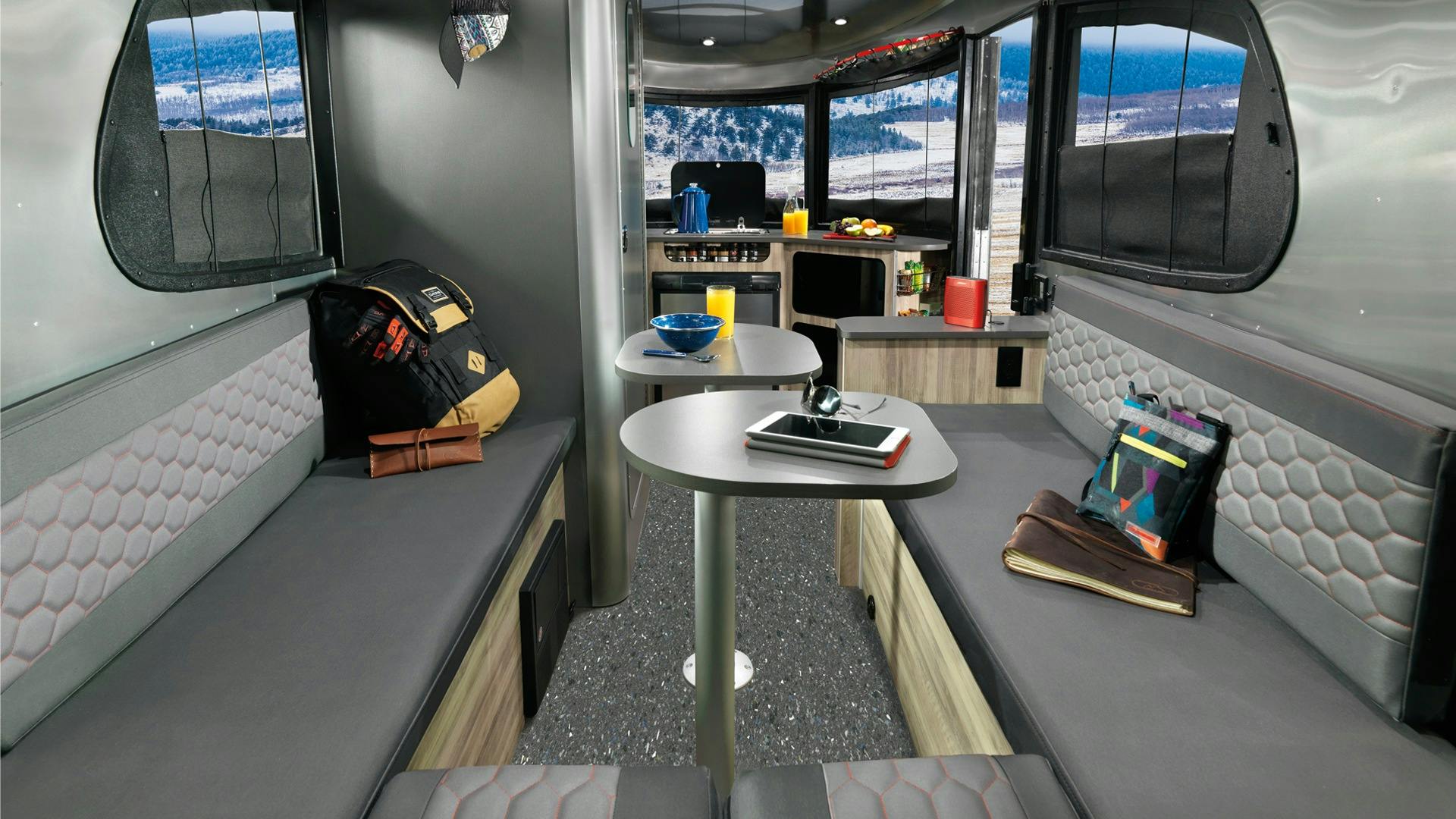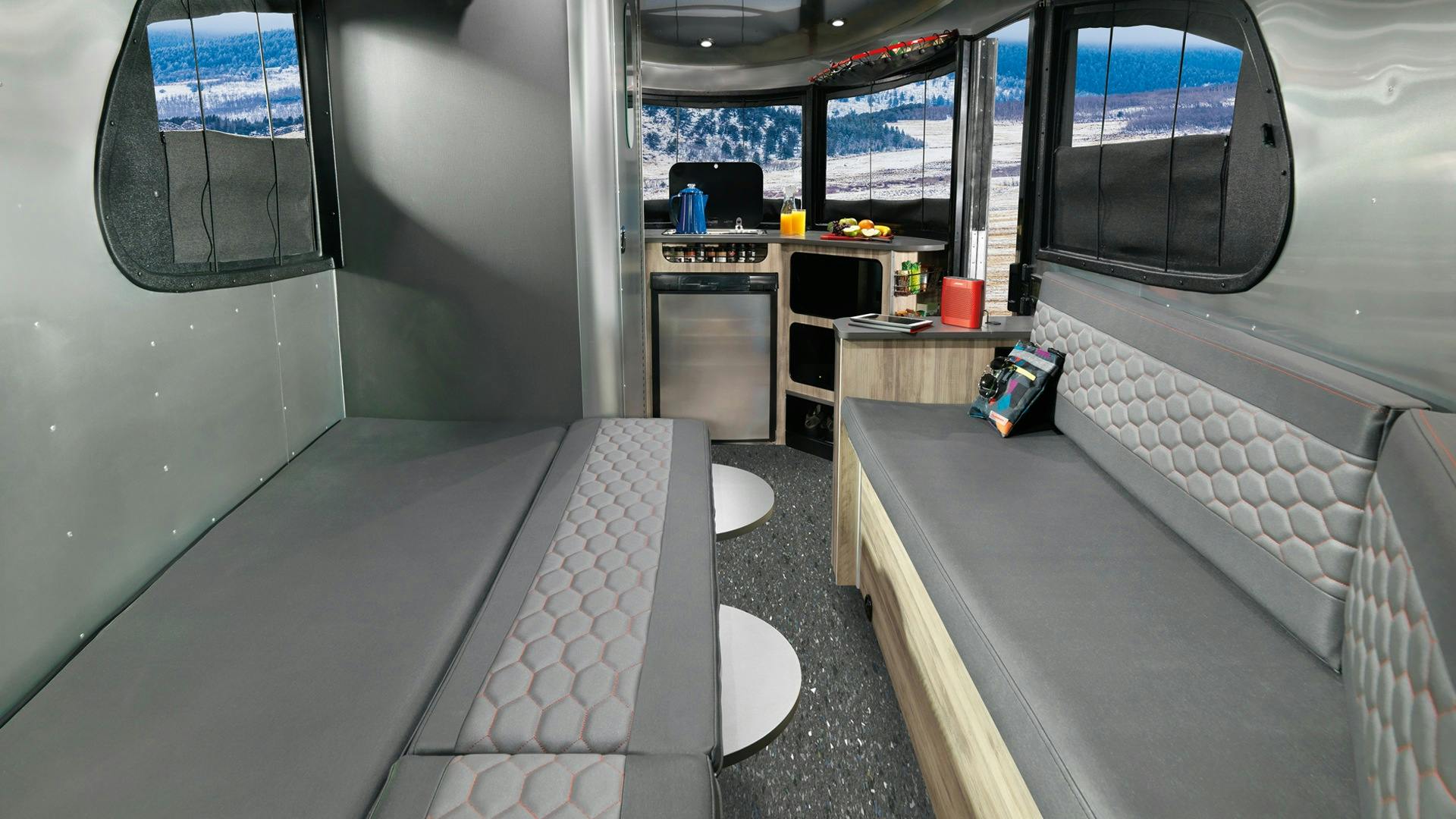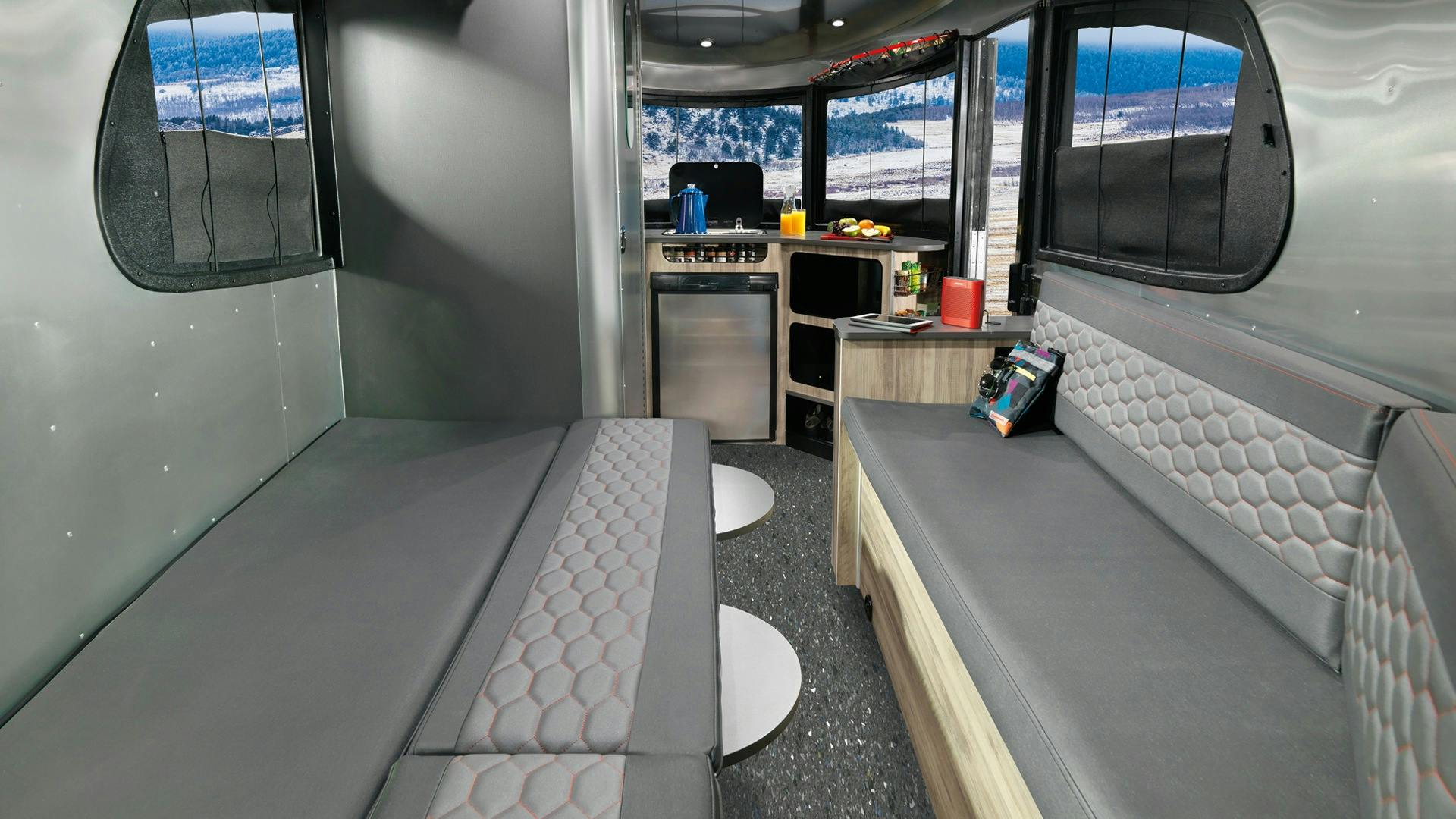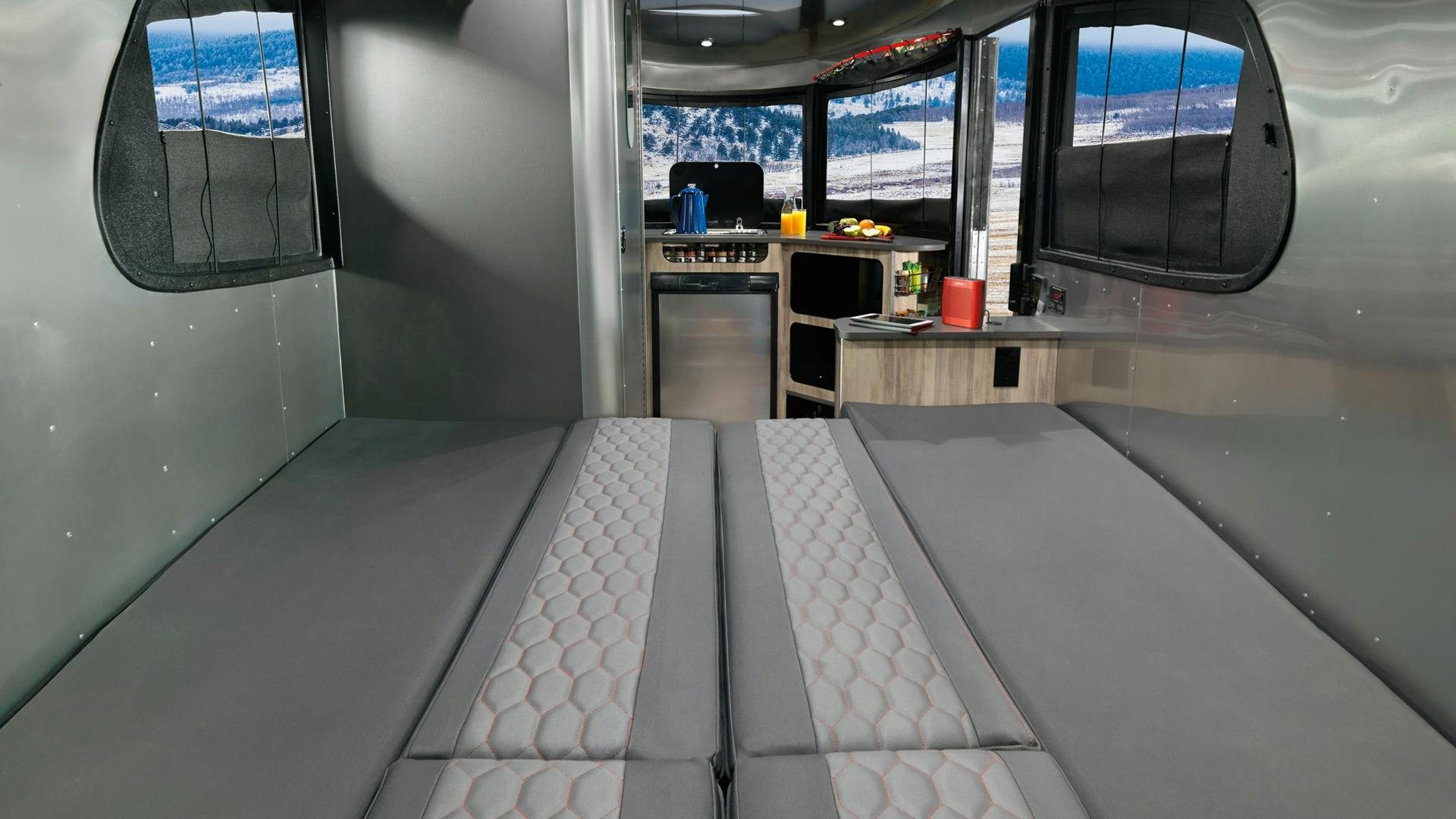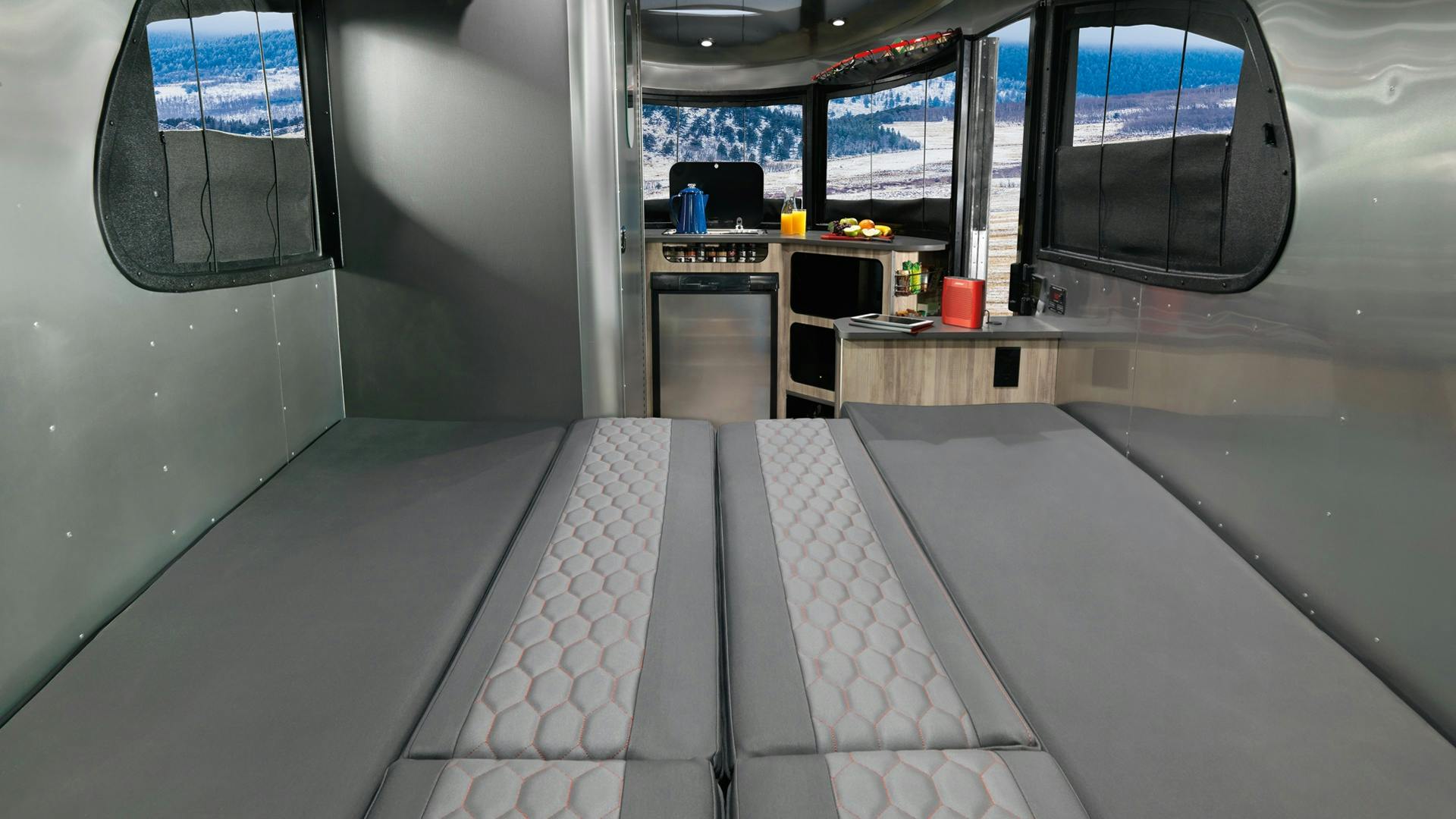 From Benches To a Bed
Two benches and a seat that spans the inside of the rear hatch door make room for five people to lounge, eat, and hang out – as perfect for camping with friends as it is for tailgating. And when you're ready to get some rest, the benches become a bed for two that covers the whole back of the trailer. Or, if you want some sleeping space but also need room to get ready, you can convert only one bench into a bed and leave the other as seating space.
Load Up Your Gear and Go
With a large rear hatch door and convertible table area that creates plenty of space, you can load up your gear and start exploring quicker than ever.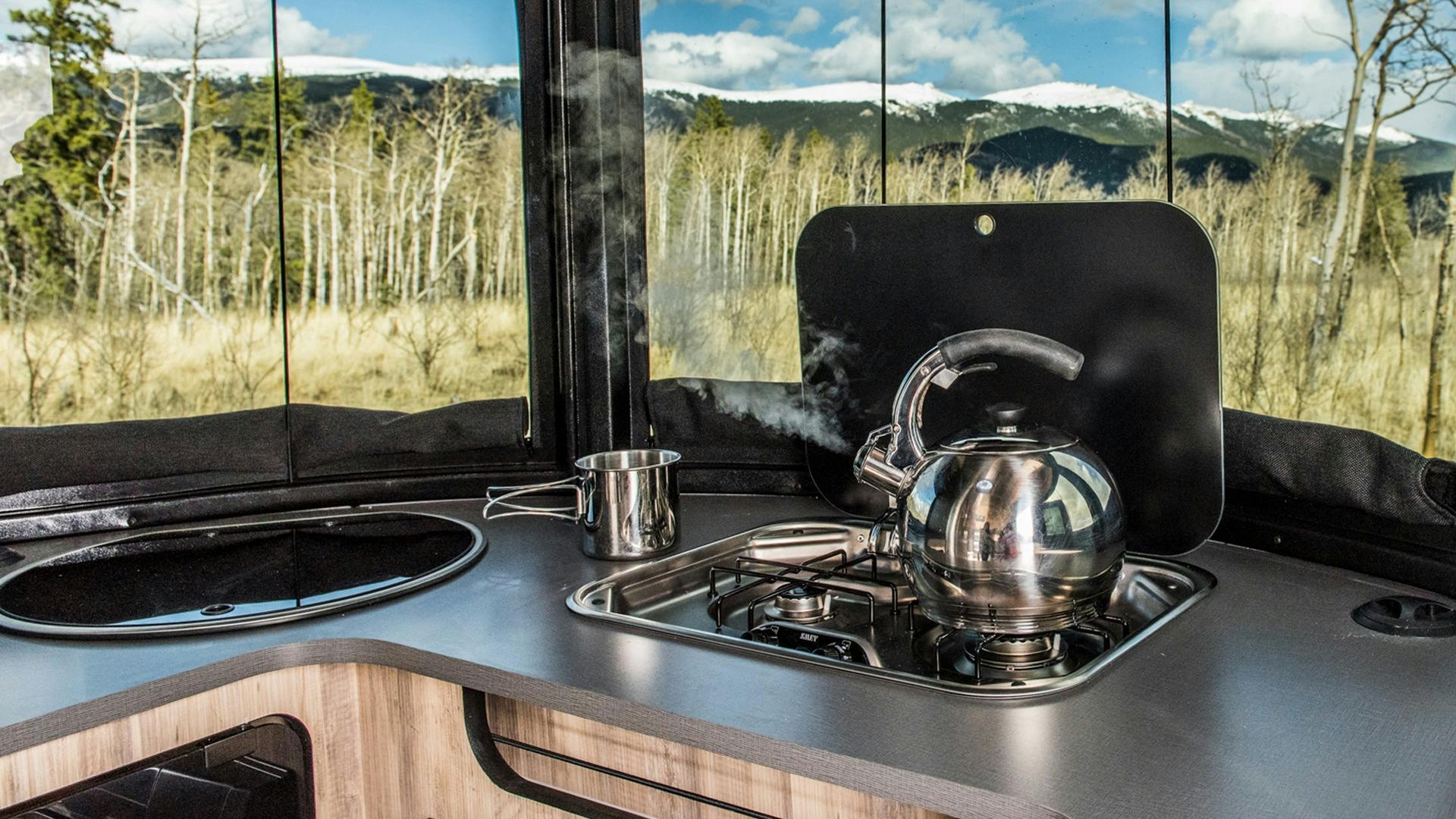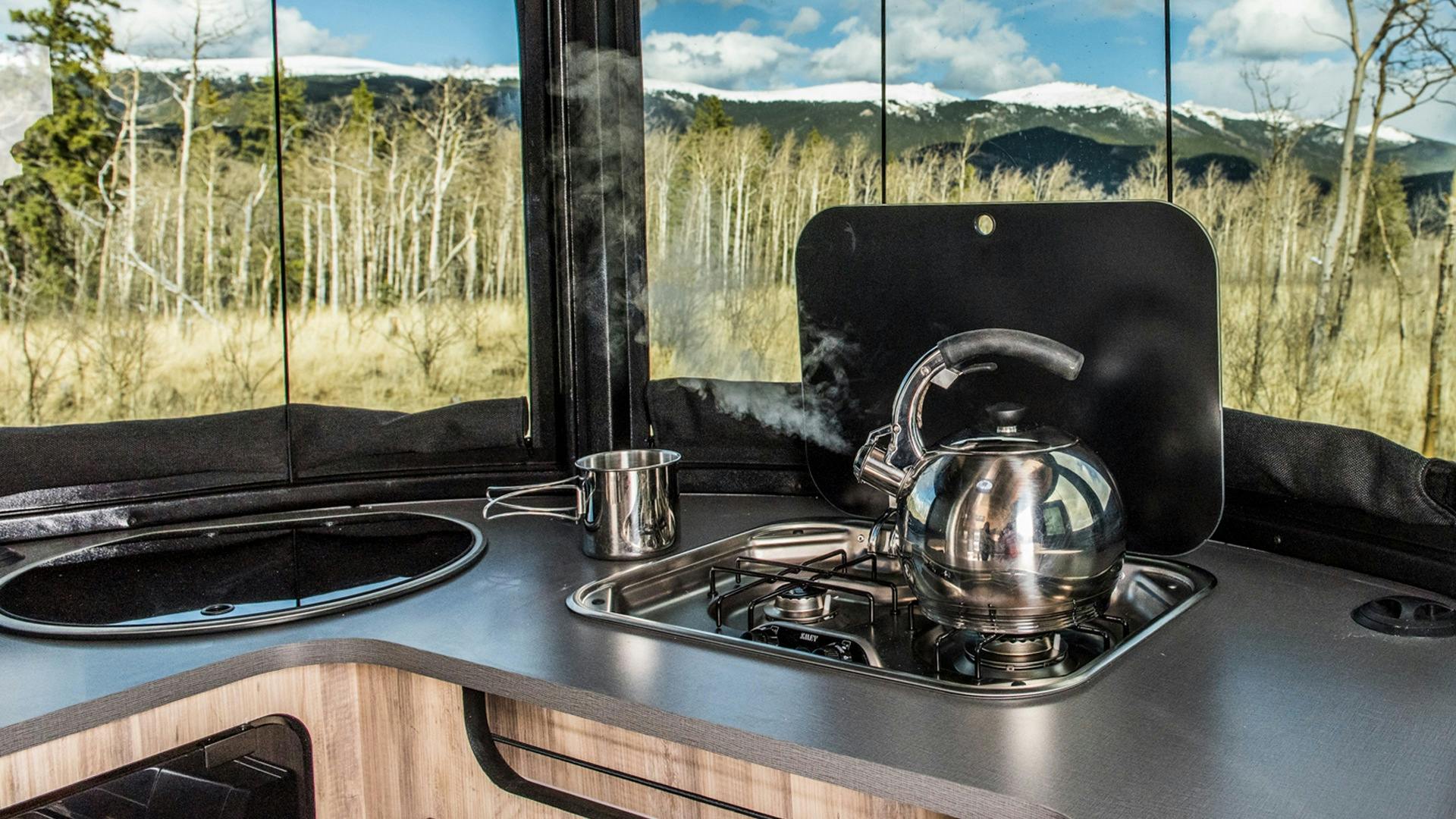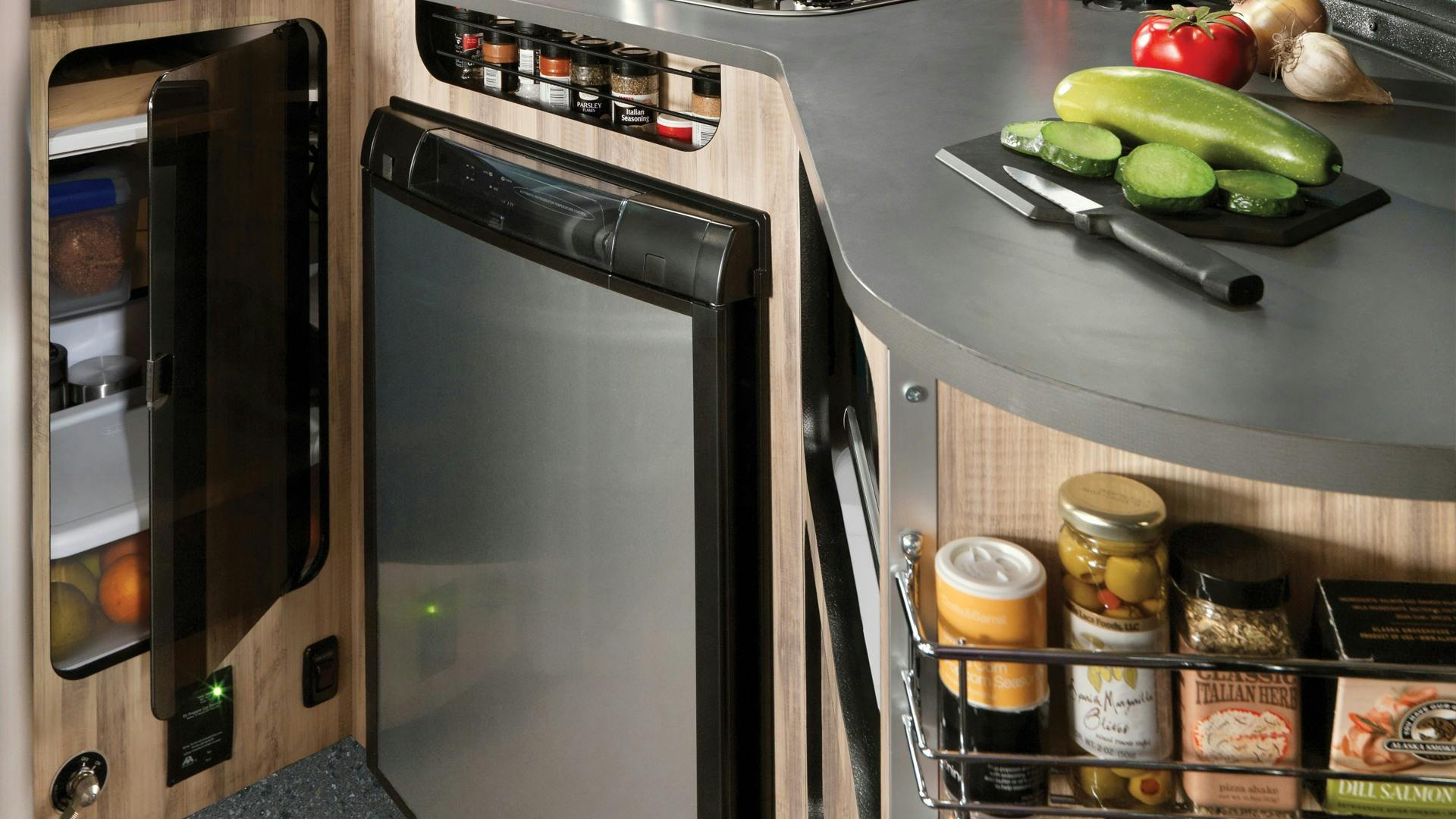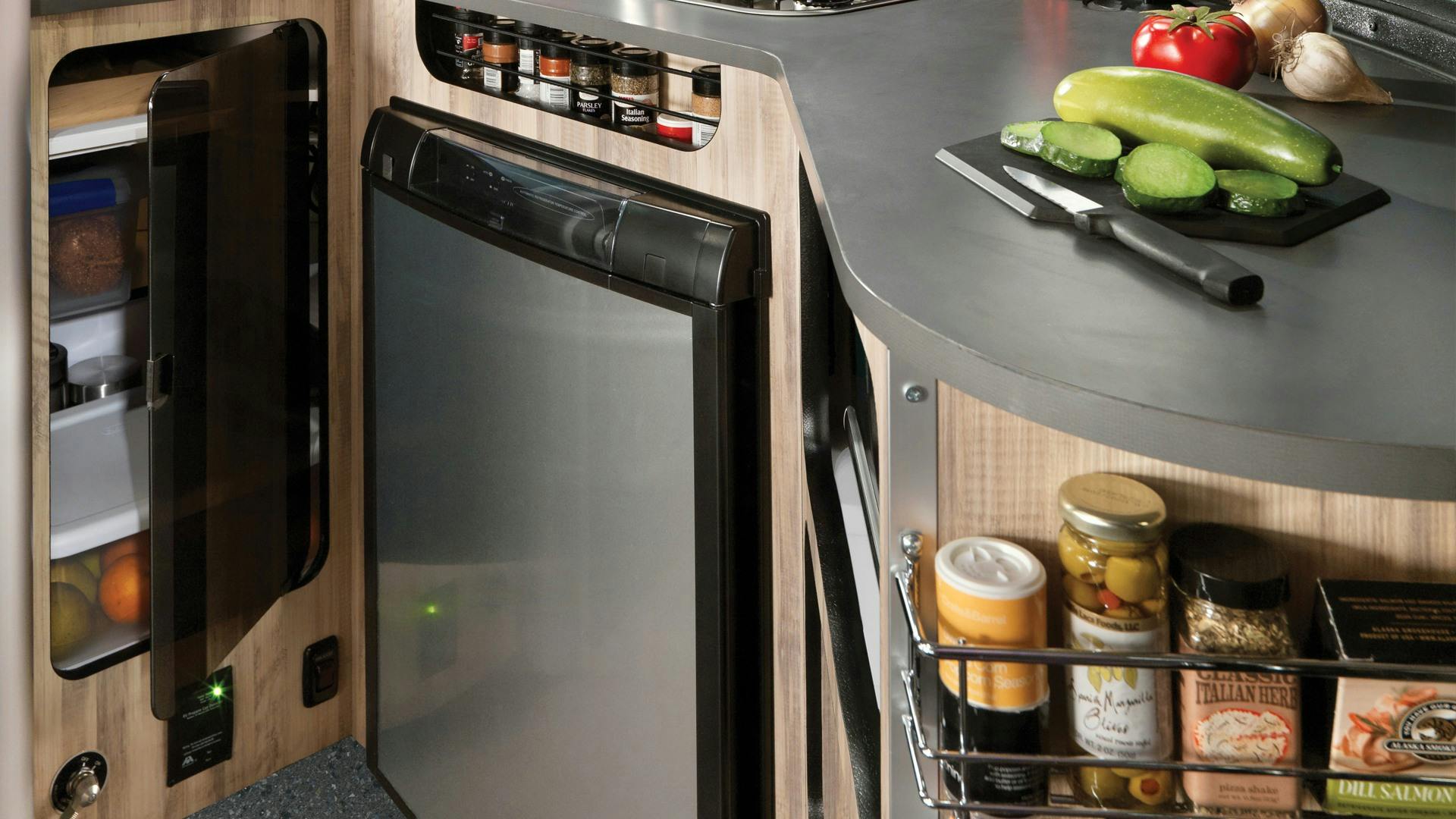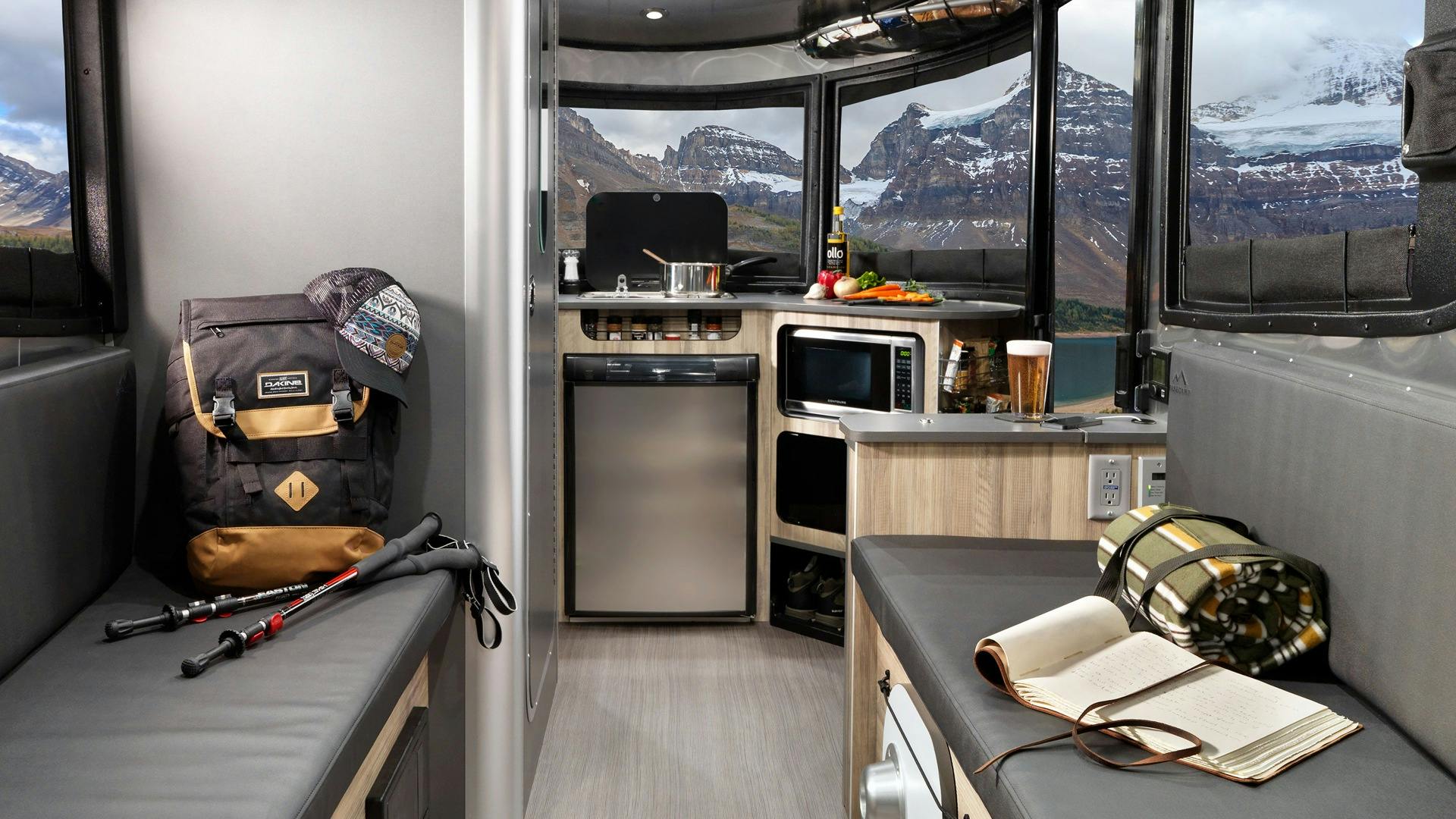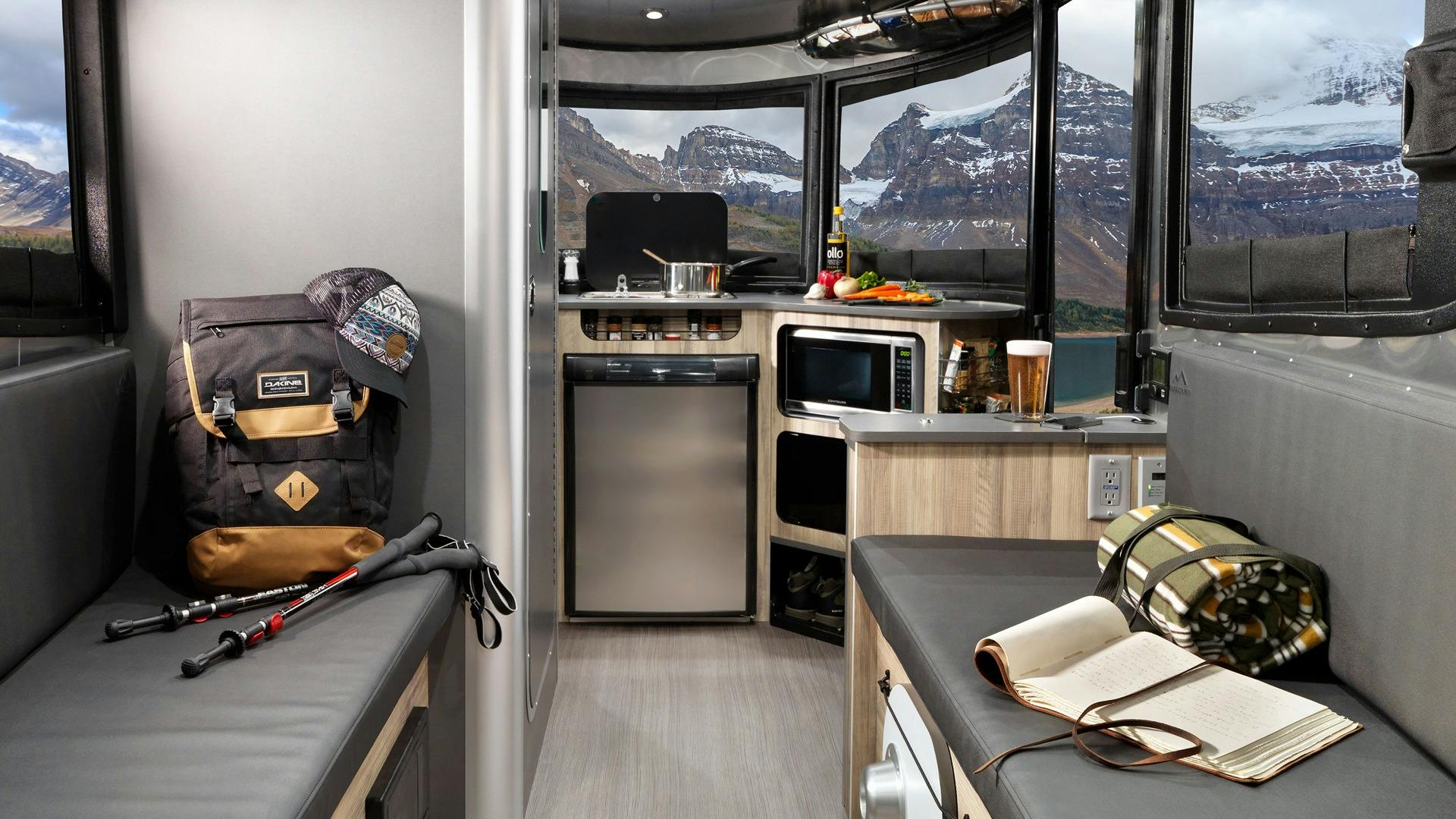 All Cooking Essentials In a Smart Space
We've kept things lean and smart in the Basecamp kitchen. You get a two-burner gas stove, as well as a sink – each with a tempered glass cover that folds down for more working space and to keep things clean when they're not in use. There's also a microwave, refrigerator, storage space for dishes, groceries, and spices. Bonus: you can take in the panoramic view while you cook.
Enabling Adventure
The Basecamp is unlike any of our other travel trailers, yet made with the same level of care. We've taken our time researching the very best materials, floor plans, and furniture to include, as well as coming up with innovative ways to make the lightweight RV towing experience seamless – and, most importantly, fun.
Behind the Basecamp Design with Bob Wheeler
Branch Out: Expand your storage, sleeping, and living space
A Packed Floor Plan: Everything you need in a space that is both beautiful and functional
Always Adaptable: Clever design meets multi-purpose functionality
Adventure Ready Interiors: Rugged, ready, and not afraid
Easy Access: Convenient access to your gear so you never have to leave anything behind
Lightweight Towing: Designed to fit with what you're already driving and ready to go where you want