How Touring Coaches are Made
Building best-in-class
Every single Airstream touring coach includes more than 50 best-in-class features that come standard – not as an upgrade. And best-in-class is the standard we hold ourselves to in every step of touring coach construction, from the Mercedes-Benz<sup>?</sup> chassis to the handcrafted furniture. Each touring coach is carefully made by experts, right here in Jackson Center, Ohio. And each one is designed to be the absolute best.
How Airstream Touring Coaches Are Made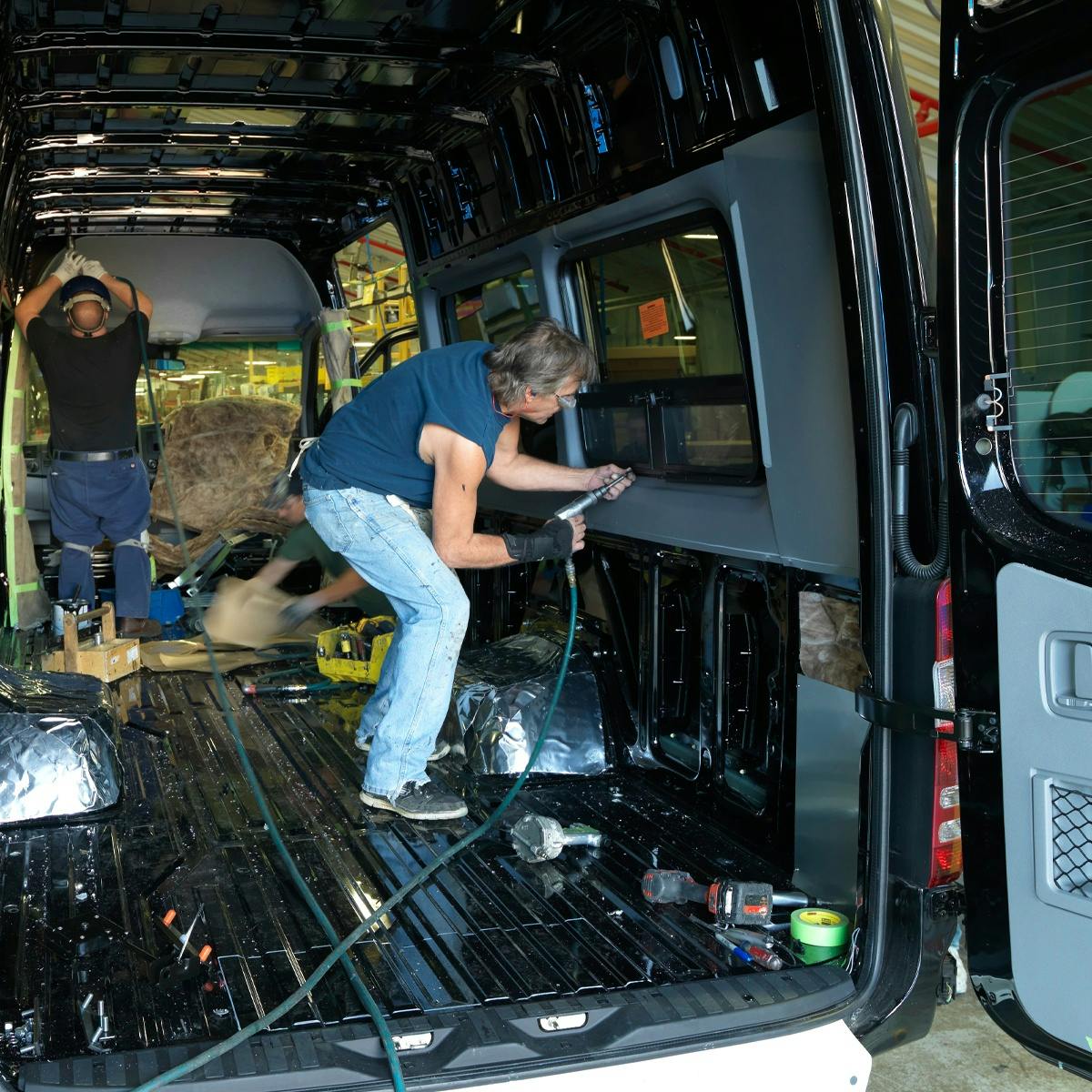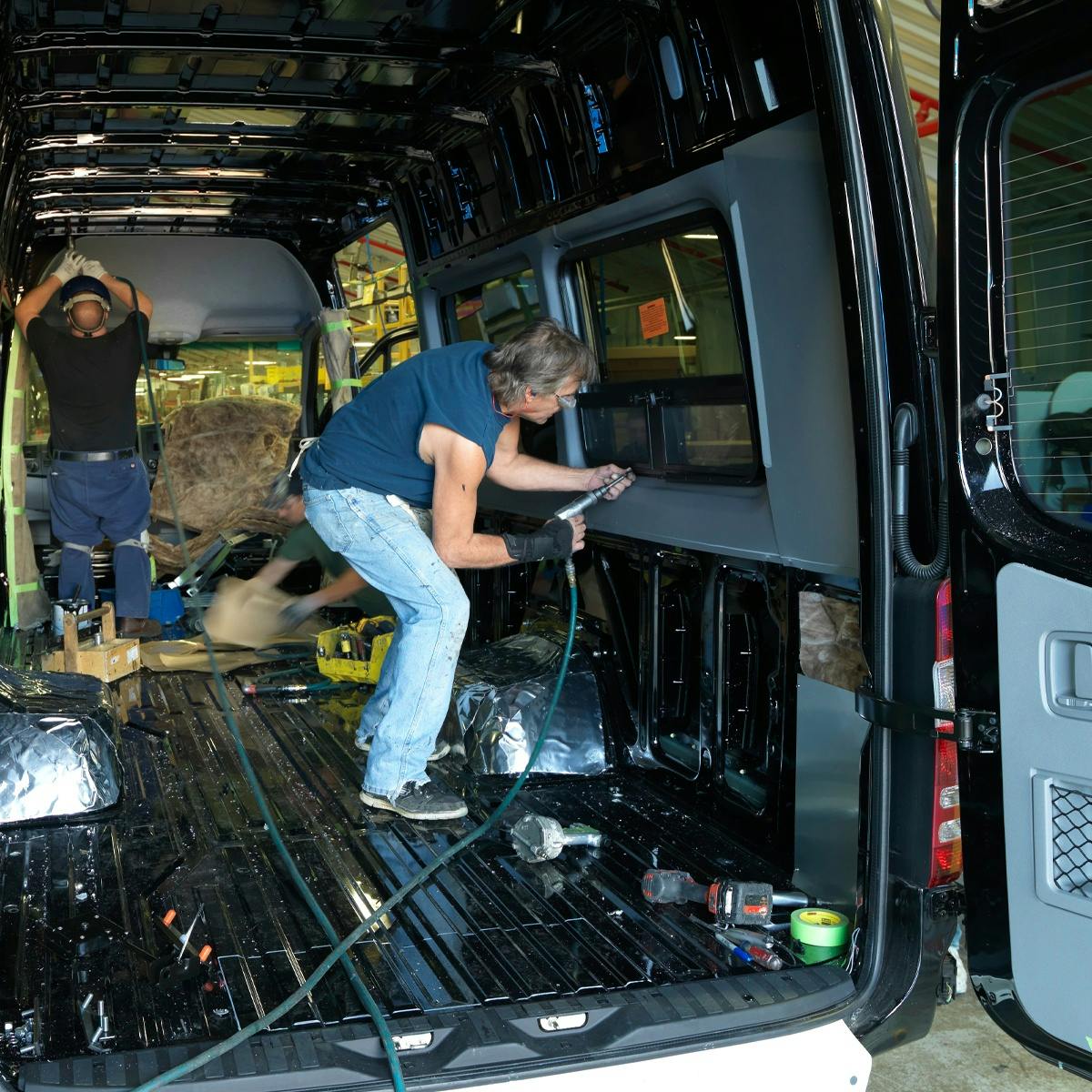 We take the best and build on it.
Like our own standards for quality, Mercedes-Benz believes in delivering the best, or nothing at all. That's exactly why we use a Mercedes-Benz sprinter van chassis as the foundation of every single Airstream touring coach. And it's why we include more Mercedes-Benz features from the chassis up than any other partner – as standard, not optional.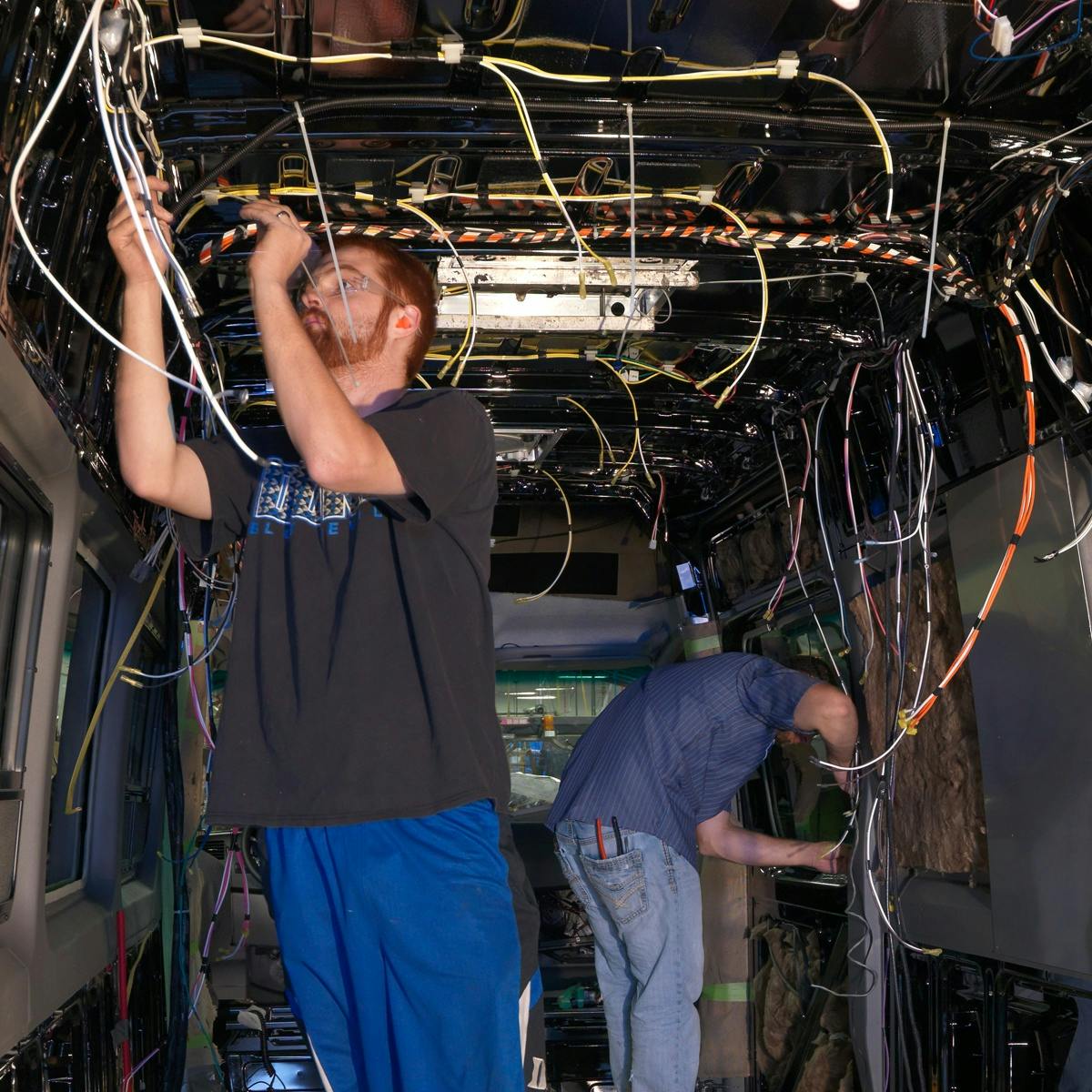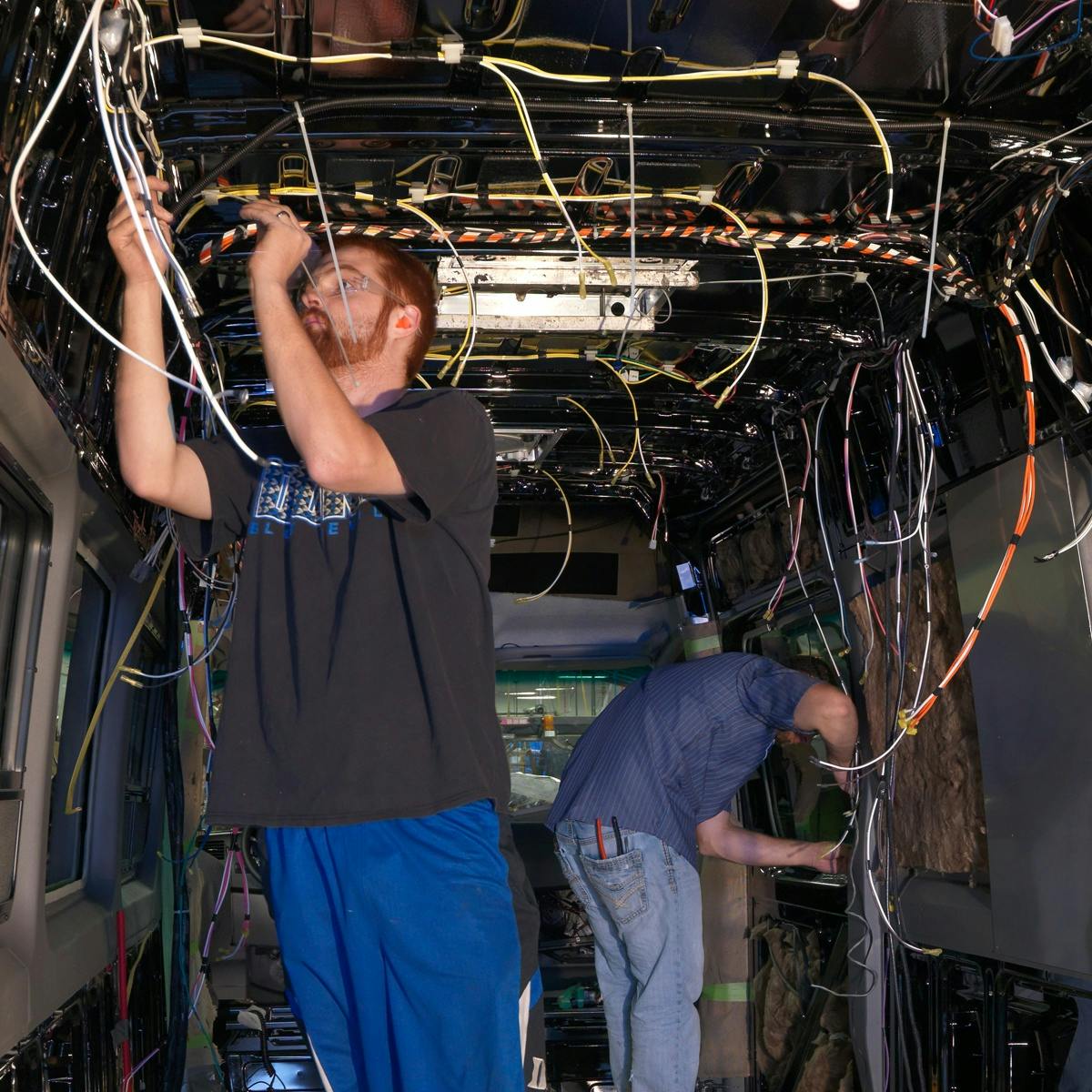 We prep and make improvements to the?chassis
Once we receive the Mercedes-Benz chassis, the electrical team is the first to work on it. They run wiring and ducting through the floor and walls and a technician creates holes for major components like power and water hookups. We also replace several of the factory windows with tinted, tilt-out windows. The tilt-outs give you a better breeze and create a sleek, seamless look on the outside.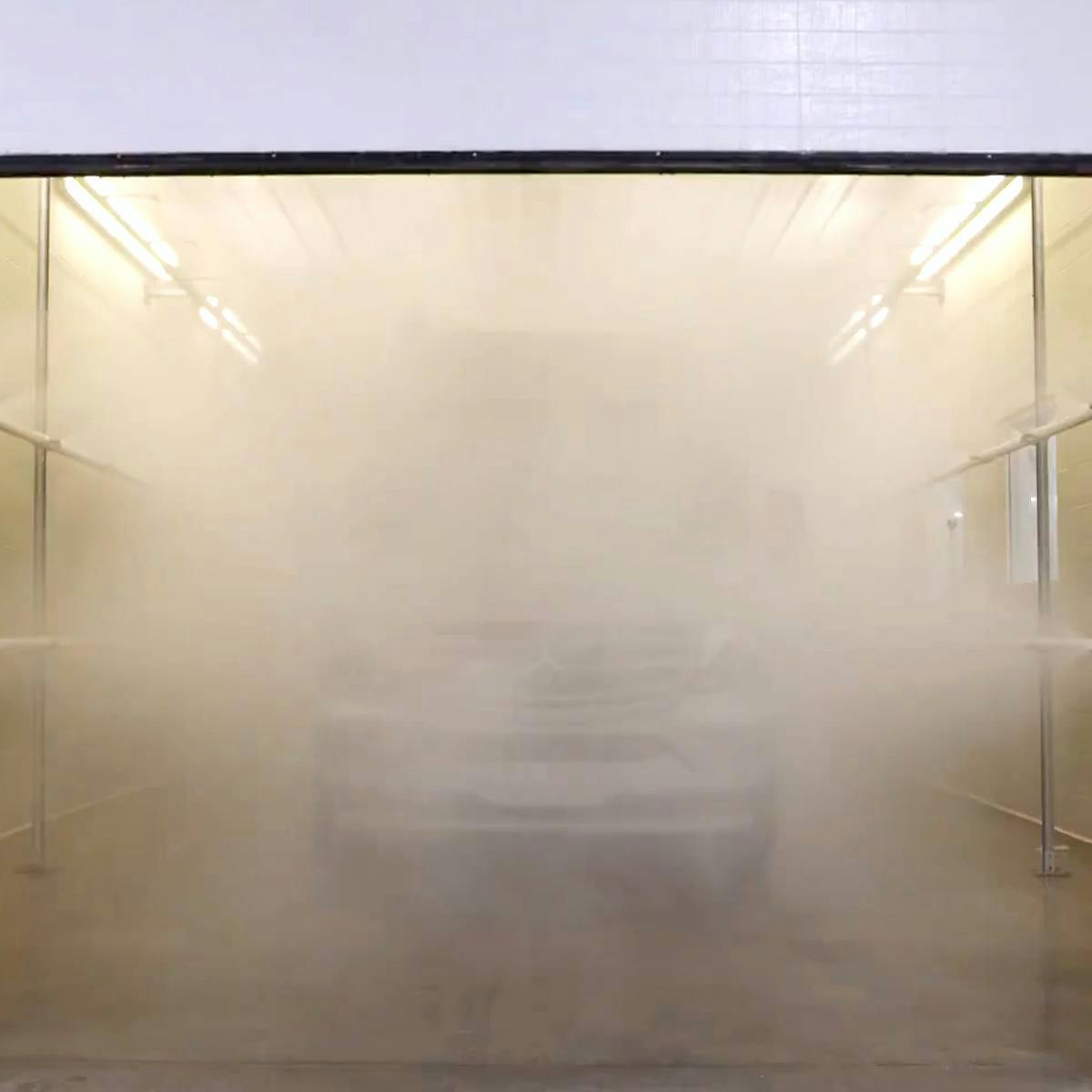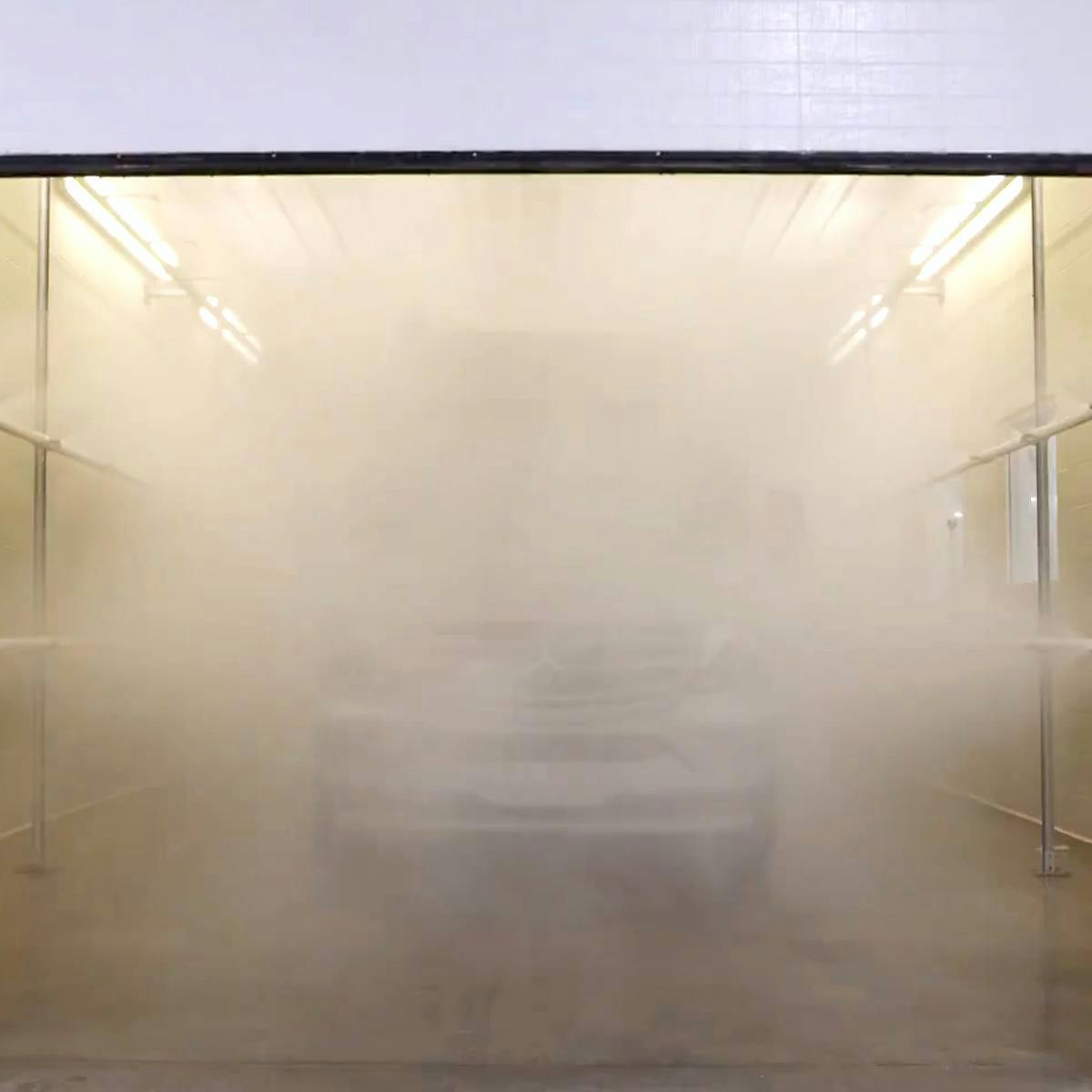 We put the walls through a full hurricane test
Each touring coach is rolled right from production line to the water testing bay, where we spray it with more than 10,000 gallons of (recycled) water at hurricane-force pressure for 30 minutes. During the test, a quality control specialist is inside the coach looking for leaks. In the rare case that a leak is found, we repair and test the coach again before furniture is installed. Each coach gets another water test once it's fully completed.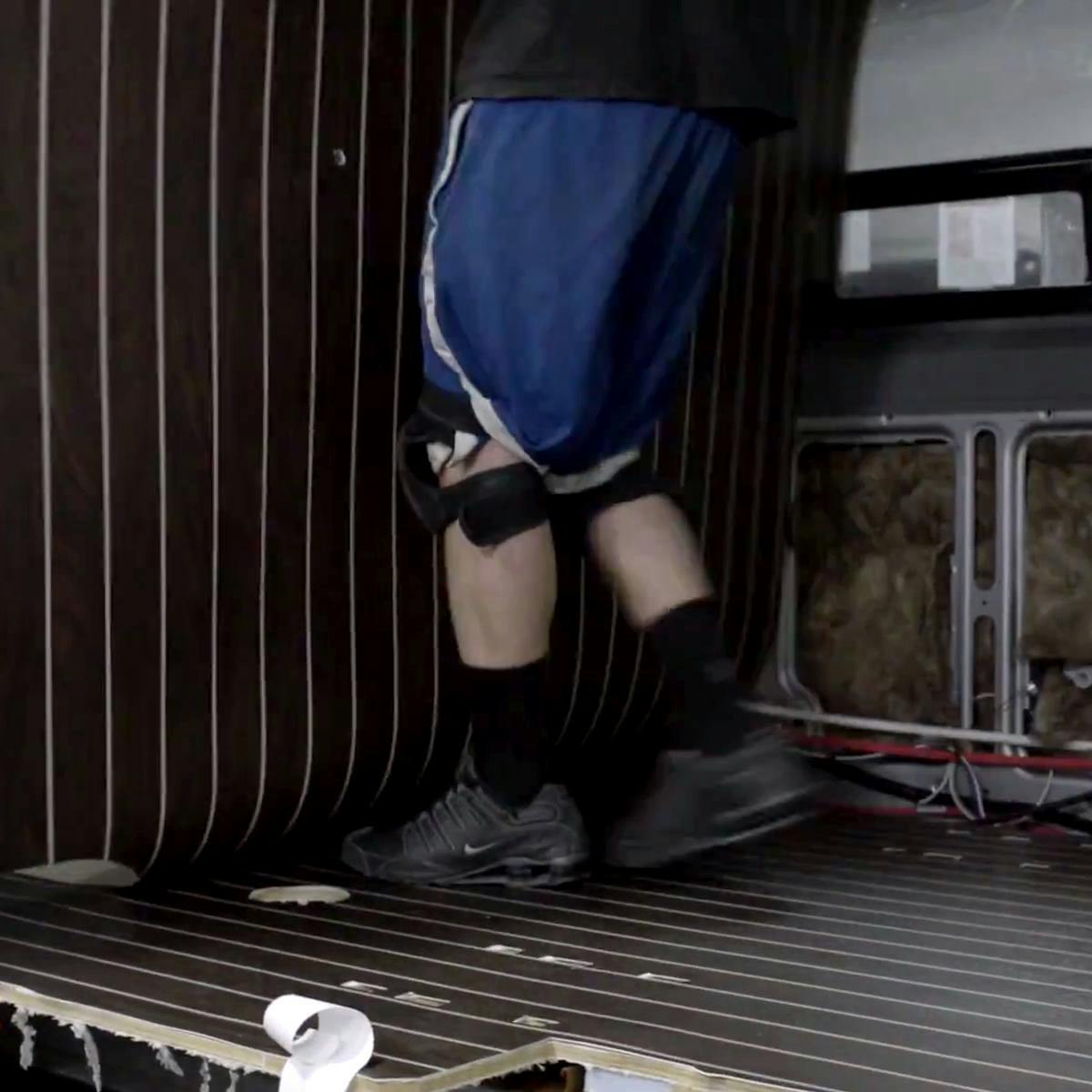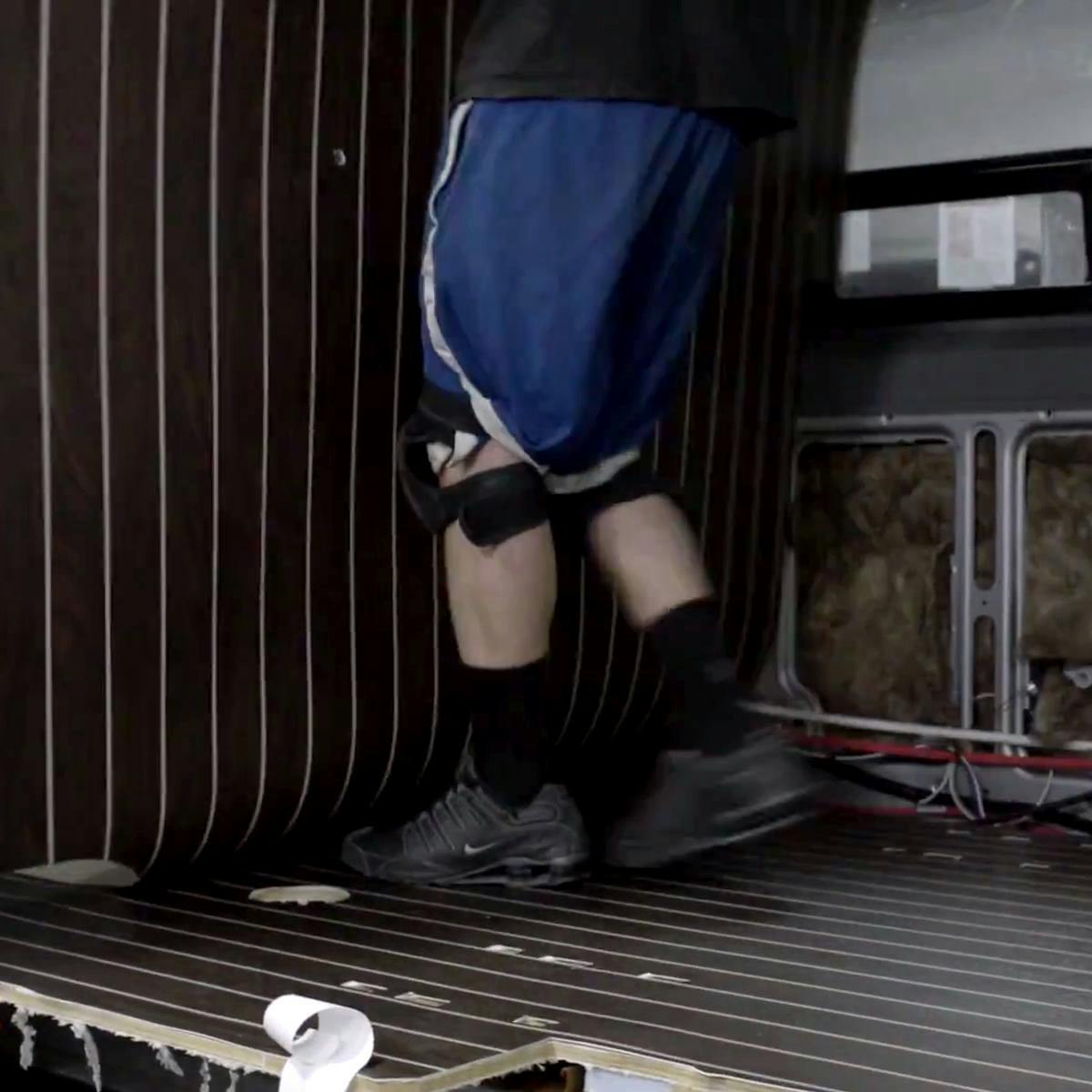 We build a solid foundation in layers
We build the cabin floor in layers, including steel, flex foil insulation, wood, an anti-wicking coat, and a marine-grade top covering that's not unlike what you'd find on a yacht. It's sophisticated, durable, and easy to clean. All together, the seven-layer substructure floor insulates the coach, protects against moisture, and reduces road?noise.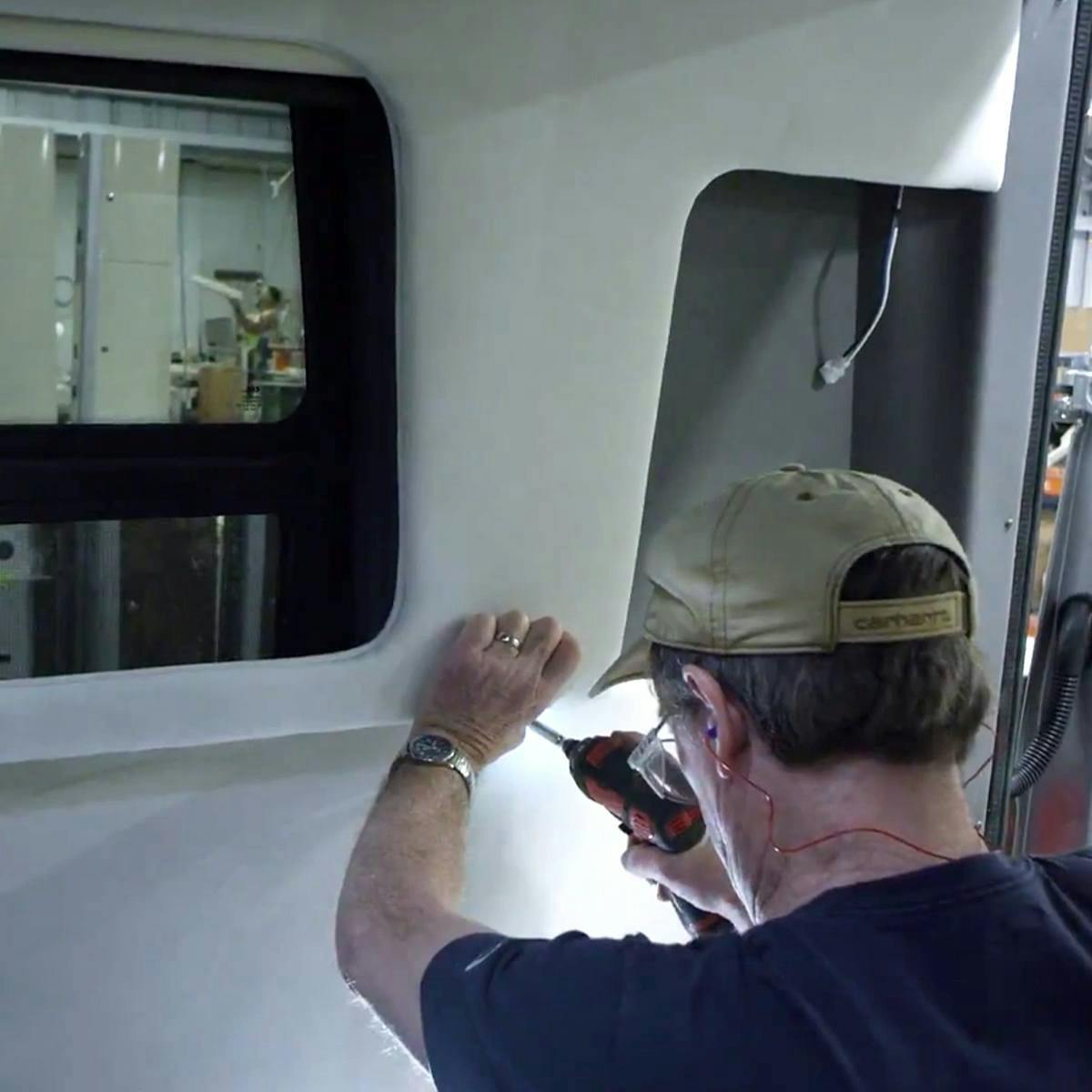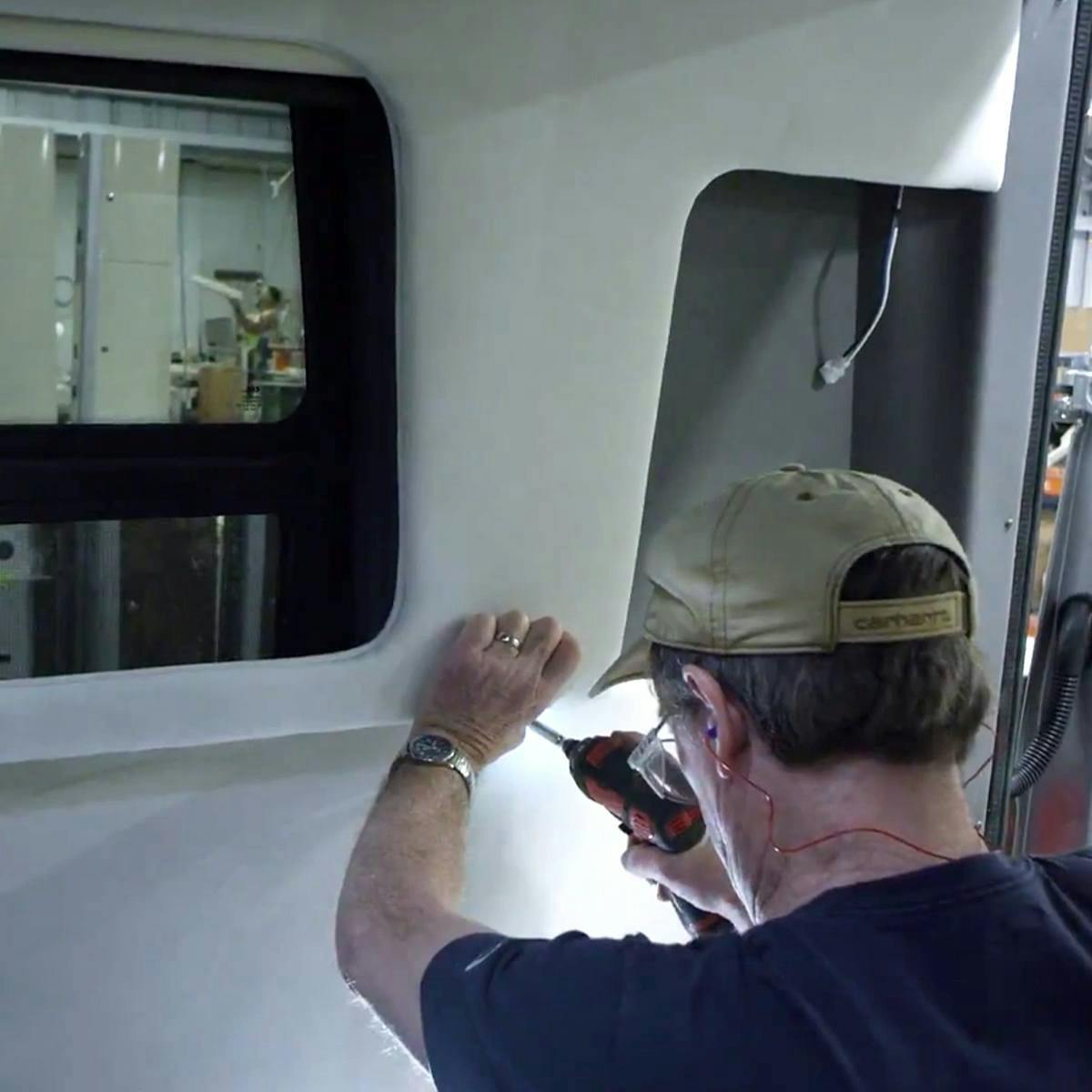 The walls are insulated, then covered in Magic?Suede
The walls are insulated using EcoBatt?, which is made primarily of recycled materials and sand, and certified to the tightest indoor air quality certification in the industry. It also meets or exceeds all industry performance standards for temperature retention. Once that's finished, we install interior paneling that features the ultra soft Magic Suede fabric.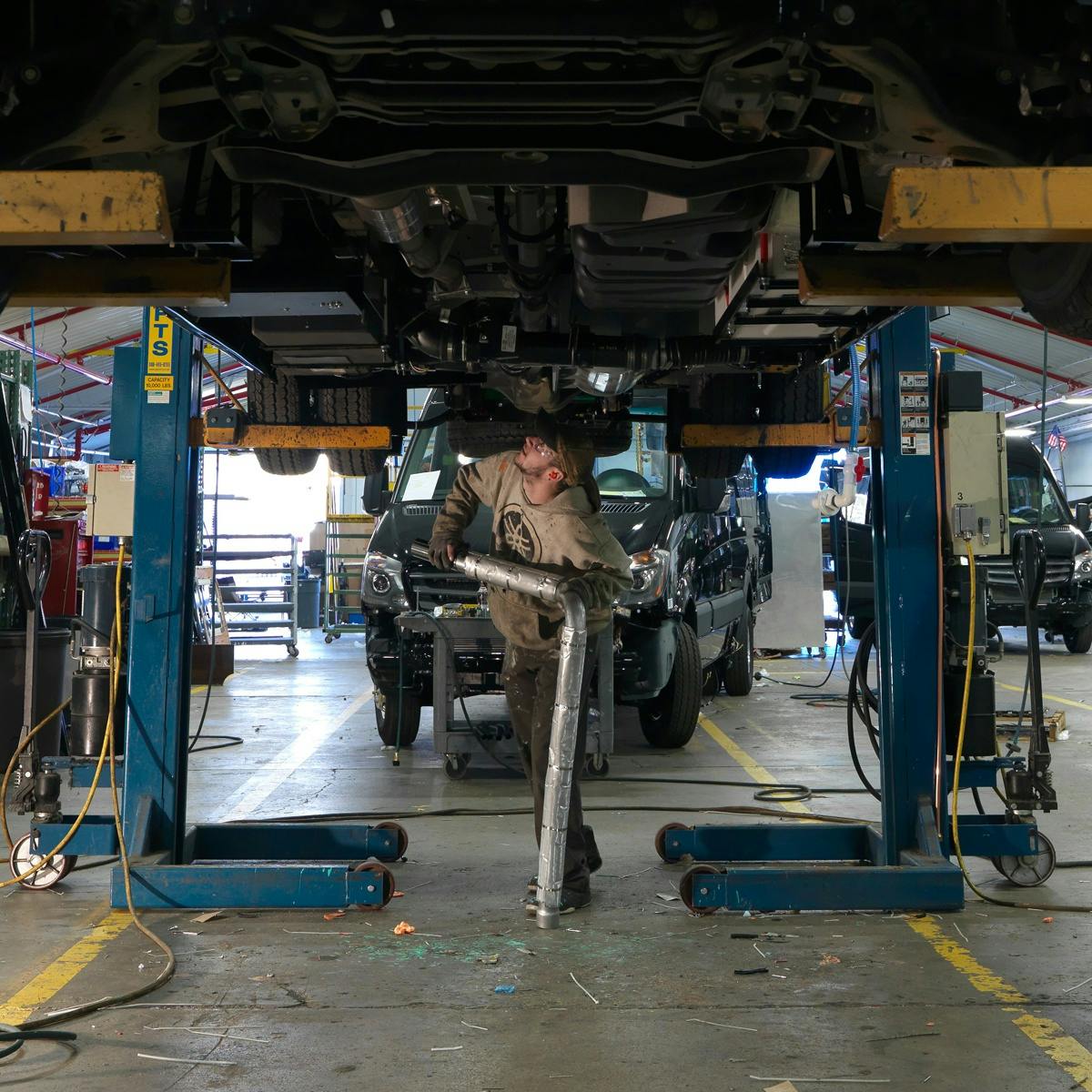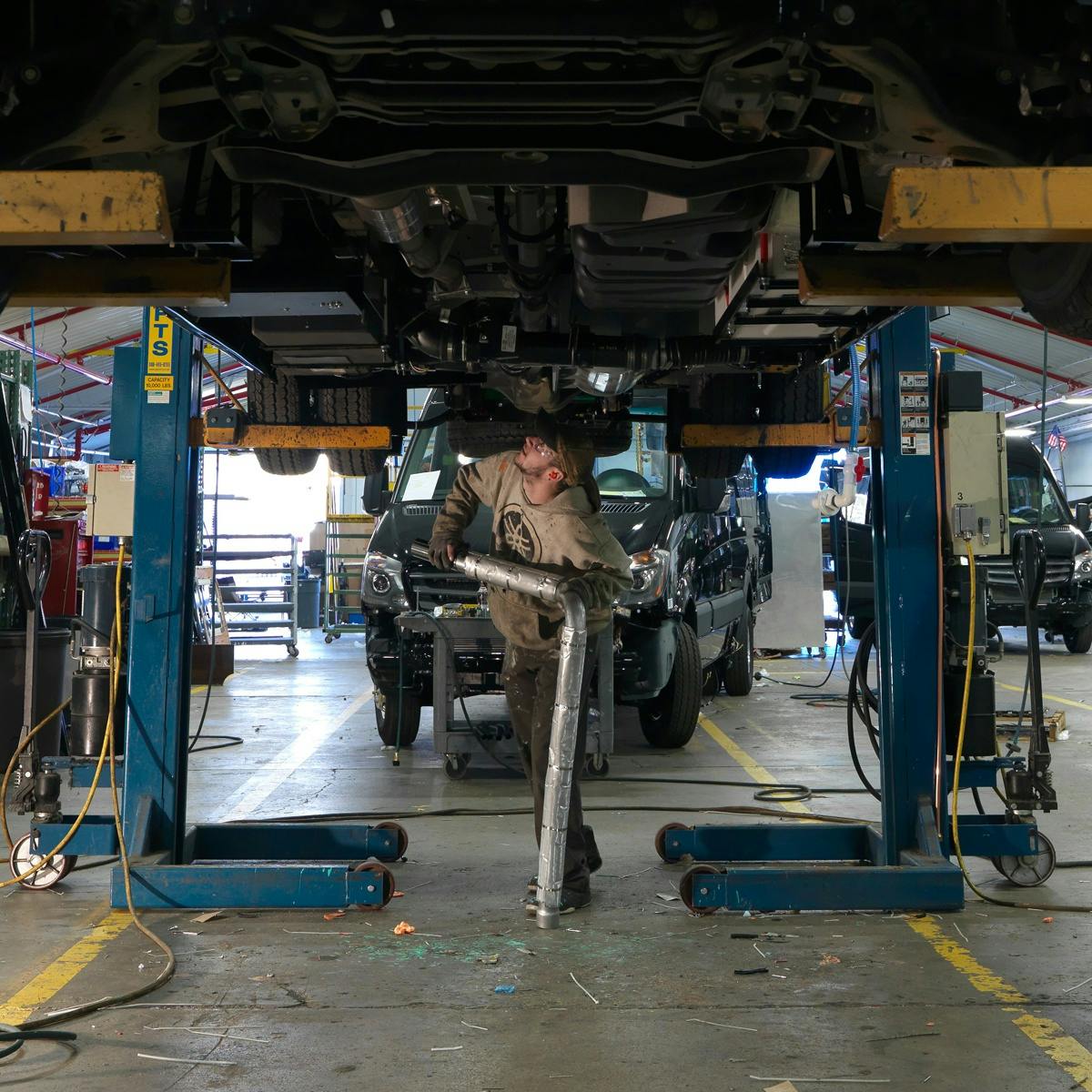 All the critical components go in from below
The generator, water and LP tanks, tank heaters, and other critical components are installed underneath the coach while the vehicle is up on a lift. The plumbing and electrical are connected to their sources and ready for appliance installation on the inside.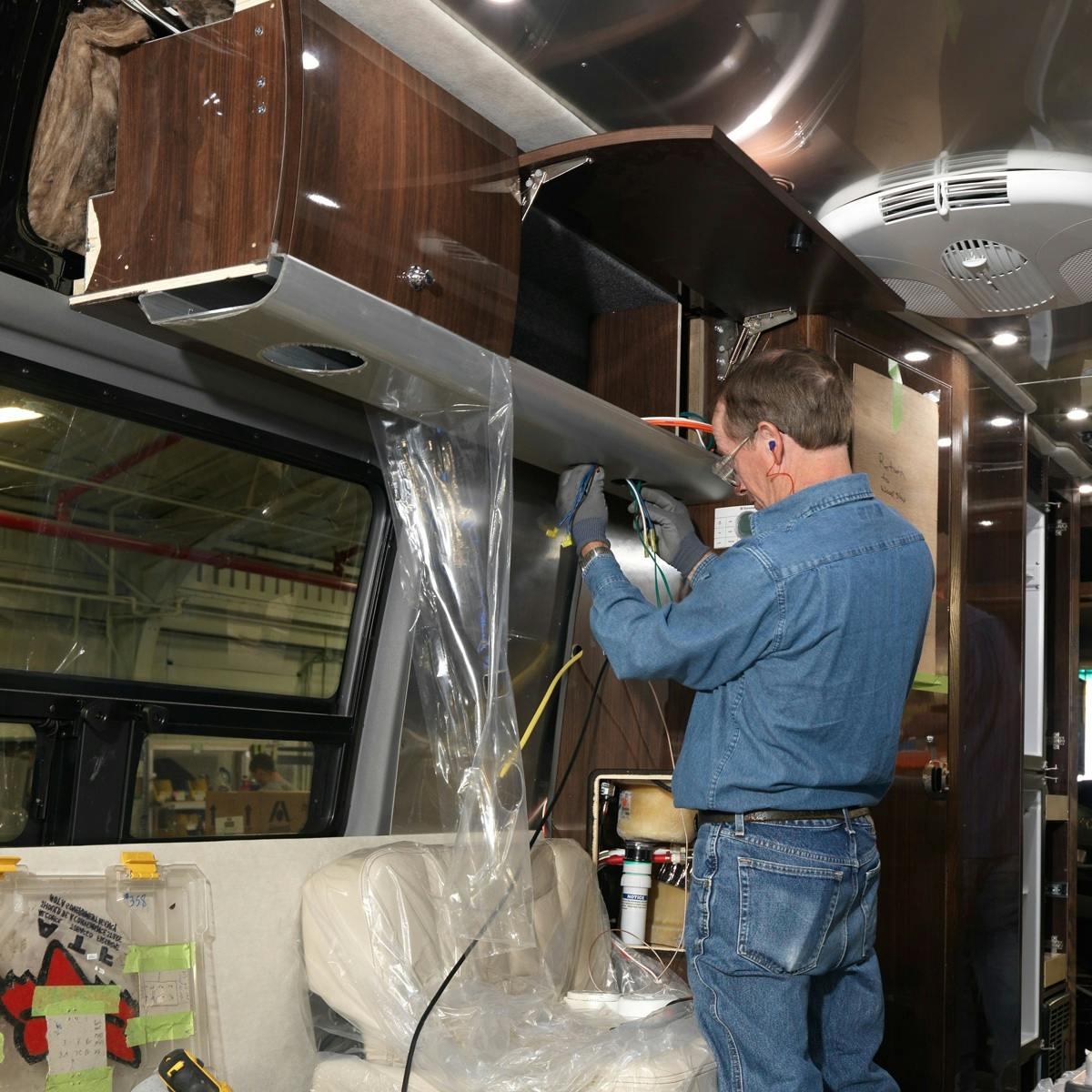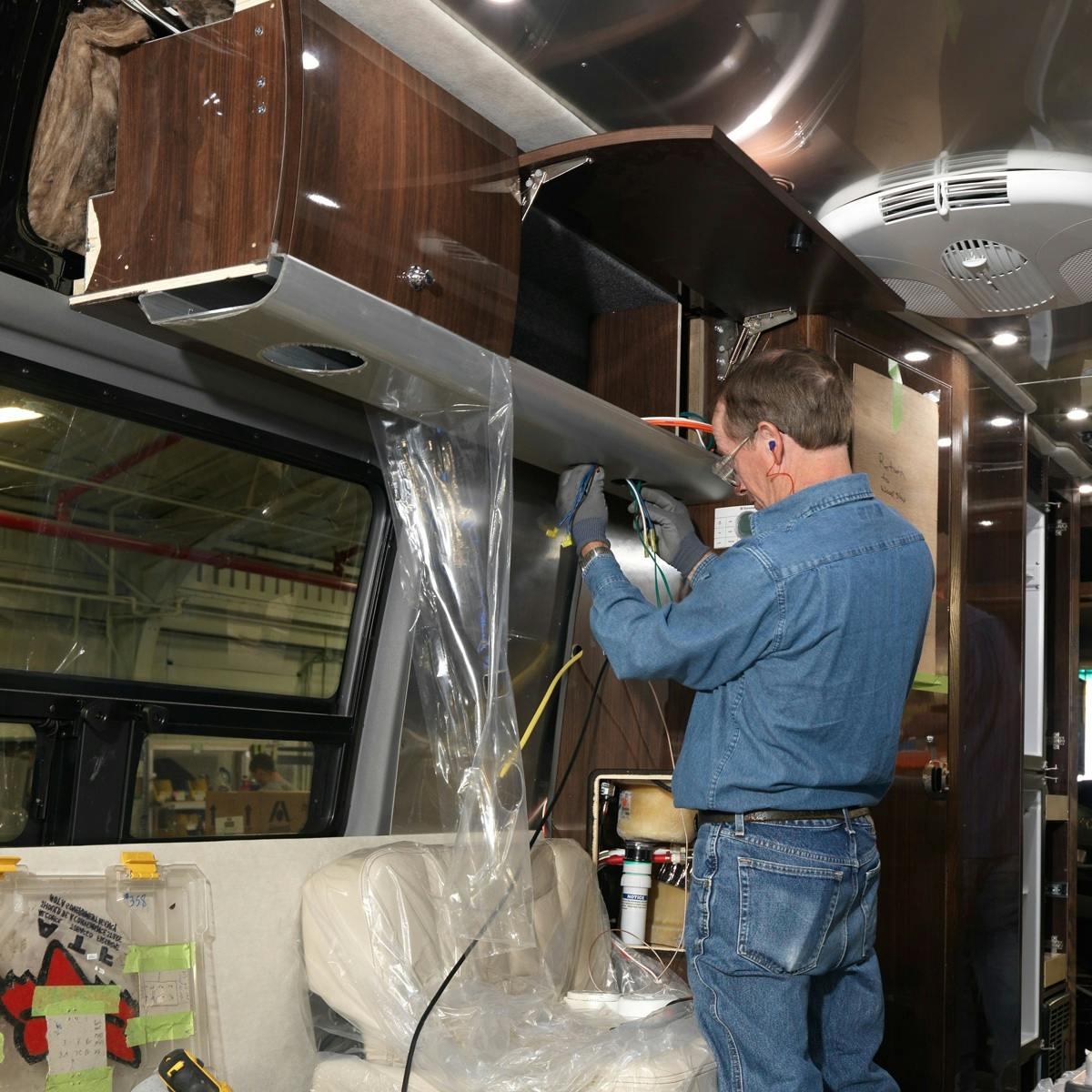 The furniture is as secure as it is beautiful.
Next we install the cabinetry, all custom-built in our wood shop. Instead of the stapled wood cabinets you'll find in other RVs, we use extruded aluminum framing, riveted to the coach's structure. That means a quiet ride without any squeaking or rattling from the cabinetry. Then the furniture comes in, and we install the lighting, entertainment systems, and the rest of the more than 50 best-in-class features that come standard in our coaches.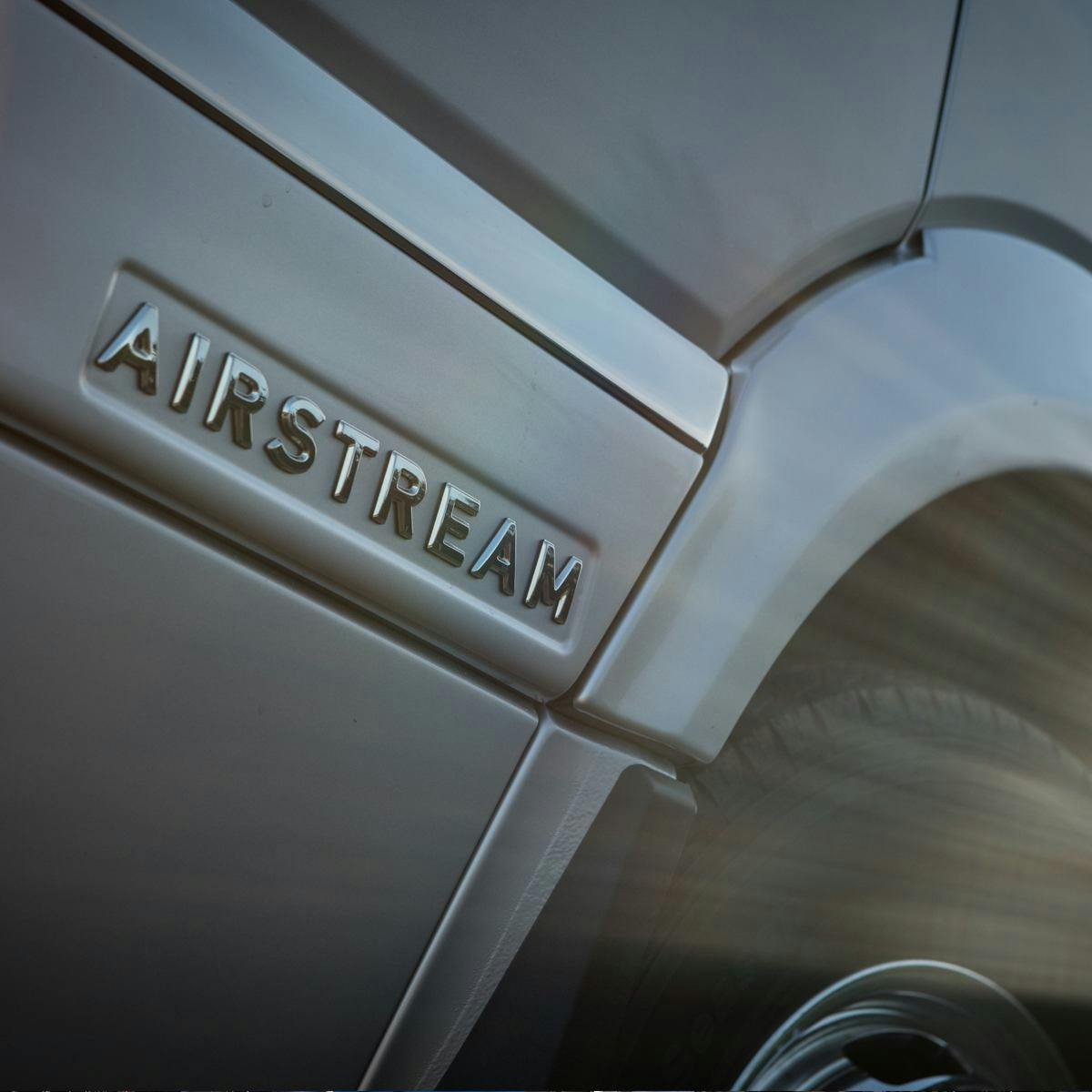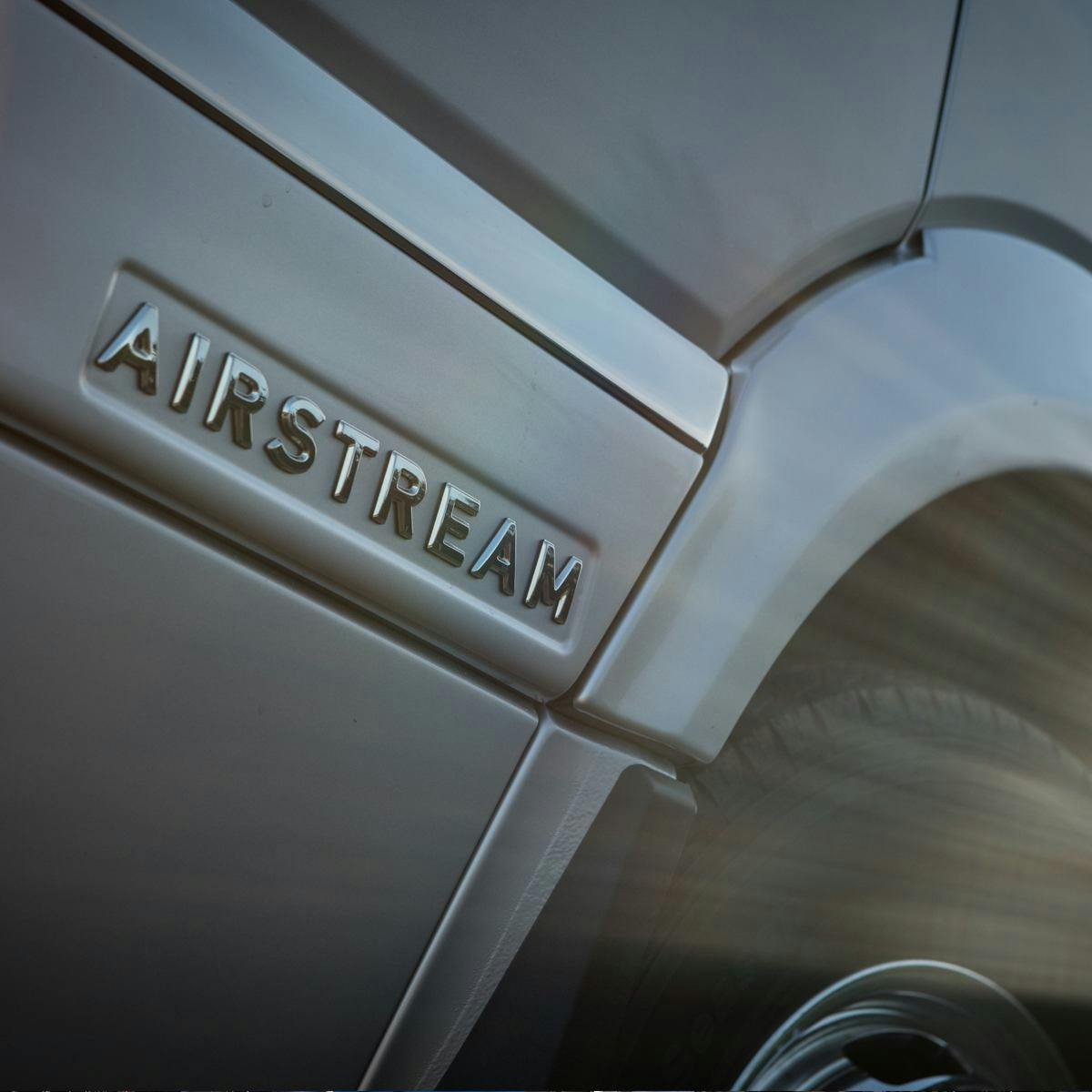 Quality control checks all the way down the?line
Quality control specialists check every single inch of each touring coach, testing the appliances, heating and cooling, plumbing, lighting, build quality, and more. Each touring coach travels down the line with a verified record of what's been checked and what needs perfected. Once that list is complete, we clean the coach, apply a fresh coat of wax by hand, and roll it off the production line to an Airstream dealer.
Watch touring coaches being?made
See the building process in action and listen to Airstream CEO?Bob?Wheeler talk about the?process.
Environmentally conscious, always
It goes without saying that preserving the planet is one of our top priorities. After all, it's our mission to help people explore it. So, we take care to make our manufacturing process as conscious and zero-waste as possible. Our factory is Certified Green by TRA and has earned the highest possible rating, the Emerald Award, for resource, energy, and water efficiency and indoor air quality. And on the road, our aerodynamic travel trailers help you achieve incredible fuel efficiency.